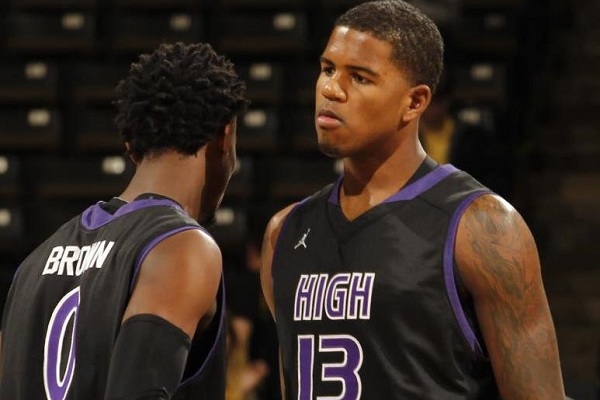 For three years, Allan Chaney watched college basketball from the sideline.
The first came while he was at Virginia Tech, where he sat out his sophomore season after transferring from Florida. The next two season, however, would be much more challenging than simply following NCAA transfer rules. The 6-foot-9 Chaney endured two grueling years after he was diagnosed with viral myocarditis, an infection that causes inflammation of the heart, in 2010. He was told he would never play basketball again.
He still has the scars. One, from the wireless defibrillator that was installed above his rib cage and under his arm, the other on his chest from when doctors cracked open his ribcage during a surgery in March of 2011.
He was cleared to play by his doctors, but not Virginia Tech, which put Chaney in a tough spot. Transfer, or see his career come to an end. He chose to play finish his eligibility at High Point, who would clear him to play. More good news came three weeks before the season when the NCAA granted him with a sixth year of eligibility due to his medical hardships.
"To hear I had the second year was great because only playing one year is only like an appetizer," Chaney told NBCSports.com. "To get that second year back and know I would be coming back with no problems, I was happy."
He made his debut for the Panthers on Nov. 9, 2012, making the good news he had received months leading up to it become a reality. The jitters were clear, as Chaney got hit with two fouls in the game's first eight minutes.
"I didn't do too well in the first half, I got in a little foul trouble, but I came on strong in the second half and showed I could still play," Chaney said.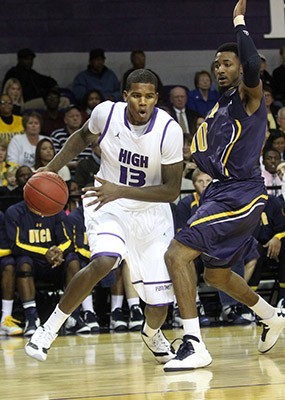 Chaney clearly proved that not only could he still play, but he could do it at a high level, averaging 14.5 points and 8.1 rebounds per game while earning Big South All-Conference second team honors. Combined with John Brown, the duo formed the league's best front court. In his first season back, Chaney helped the Panthers amass a 12-4 conference record, which put the Panthers atop the North Division standings.
However, the good news for Chaney and the Panthers came to a halt when Brown was sidelined with an injury a week before the Big South Conference tournament.
In the quarterfinals, High Point was upset by Liberty. The Flames jumped out to a 17-point halftime lead and held off a High Point second half comeback. Liberty, a 20-loss team went onto advance to the NCAA tournament, with High Point settling for the CollegeInsider.com Tournament.
"I didn't," Chaney said when asked if watched Liberty play in the tournament. "I didn't. I was upset that we didn't make it."
After battling back from a pair life-threatening incidents and being told his career was over, Chaney can only see his last season end in one spot: with a trip to the NCAA tournament.
"Oh man, it'd mean everything," Chaney said. "For us to get that tournament bid, and to get an opportunity to experience something like that would be great."
At his lone season at Florida, Chaney was a member of a team that made it's second straight trip to the NIT following back-to-back national titles. He never did get postseason experience at Florida, not playing in the final six games. Even though he never played a game for the Hokies, both those teams failed to make the tournament, as those Virginia Tech teams always seemed to be on the wrong end of the bubble.
High Point is expected to be one of the favorites in the Big South with the return of Chaney and Brown. In order to complete his journey — one that began six years ago — of qualifying for the NCAA tournament, Chaney dedicated his summer to basketball, the first time he was able to do so in years.
"This is my first summer working out for basketball, because of course I missed three years," Chaney said. "I trained with Marvin Matthews, who used to wrestle at Morgan State. He'd meet me at Lake Montebello in Baltimore, and we'd go run in the morning, and every afternoon I'd go train for basketball."
He also got good run at the Kenner League, played at Georgetown. He was in a league that included Victor Oladipo, Donte Greene and Jeff Green, who missed the 2011-2012 season after undergoing heart surgery, though the two forwards were never able to discuss their experiences.
The goal this season is to advance to the NCAA tournament, but the graduate student is taking courses in the Non-Profit Management field, preparing for his life outside of, but not too far away from, basketball. He has ambitions are to either start or contribute to a program that will help give children who were told they couldn't play sports because of heart conditions the ability to play. The organization, he explained, would provide children heart examinations or defibrillators, including the subcutaneous defibrillator Chaney is currently considered a case study for, which is a defibrillator that allows more movement and freedom.
Of course, Chaney still has hopes of playing professionally, either in the NBA or overseas, and he is more than willing to put to rest any questions front office executives or coaches might have given his past.
"If a team had an concerns you can run me," he said. "You can get me up at 6 a.m. and you can run me five miles. Five miles, 10 miles. I bet you I can do it."
He's already gone against the odds by returning to the floor, so when it comes to making a trip to the NCAA tournament, or even continuing his playing career following this season at High Point, can you really doubt him?