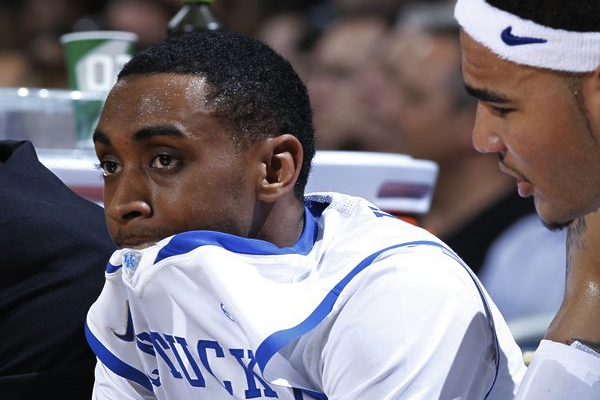 Seven times in the past six seasons, John Calipari has recruited and coached a point guard that played for him for one year, either at Memphis or Kentucky, before moving on.
That group includes six first round picks, some of whom are among the NBA's most talented ballhandlers: Derrick Rose. Tyreke Evans. John Wall. Eric Bledsoe. Brandon Knight. Marquis Teague.
And then there's Ryan Harrow.
Unlike his one-and-done predecessors, Harrow's tenure under Coach Cal didn't end up with a guaranteed contract and NBA millions. It ended back in his hometown of Atlanta, as the former top 40 recruit transferred to Georgia State back in March after one ignominious season in Lexington.
Instead of playing in the SEC for a team expecting to compete for a national title, Harrow will be helping the Panthers navigate the jump from the CAA to the Sun Belt Conference this year.
Instead of starting at the most important position in Coach Cal's dribble-drive motion offense for what is arguably the nation's premier program, Harrow, who has now parted ways with two top 25 programs, finds himself trying to learn a third system in four years; trying to mesh with and lead a talented team built largely on fellow high-major cast-offs.
This wasn't the path Harrow saw himself headed down.
Three summers ago, when he packed his things and moved to Raleigh, Harrow never pictured himself returning home to play for the second best college team in a city located in the heart of football country.
But that's not where his story has to end.
———————————————————————————————————————
Last season was a nightmare for Kentucky, with yet another top recruiting class yielding nothing but a first round NIT loss to Robert Morris. If that wasn't bad enough, in-state rival Louisville went on to win a national title. As bad as things got for Archie Goodwin, Alex Poythress and Nerlens Noel, who missed the final third of the season after tearing his ACL, it was Harrow that became the whipping boy, the kid that was forced to shoulder much of the blame for Kentucky's struggles.
It started on the season's opening night.
Harrow managed to play all of ten minutes in front of a packed house and a national television audience as the Wildcats beat Maryland in the inaugural college basketball game at the Barclays Center. His backup, former walk-on Jarrod Polson, was the star. The official party line was that Harrow was sick, that he had the flu, but when he missed the next four games, including Kentucky's trip to Atlanta for the Champions Classic, it was clear there was more going on.
Kentucky referred to it as a personal issue throughout the year, but wouldn't get into specifics. Harrow's father suffered a stroke prior to the start of the season, and that played a role in his decision to leave the team for a week last November. During phone interviews with NBCSports.com last week, neither Harrow nor new head coach Ron Hunter would discuss what, exactly, caused Harrow to miss time last season.
"There's a lot of things that aren't reported involved in his personal life, things that most 30 or 40 year old men couldn't handle," Hunter said. "I don't know if any kid in the country could have gone through those things."
What was affecting Harrow off-the-court is unclear.
What was clear, however, was that Kentucky needed Harrow on the court. They needed him to be a commanding presence at the point, a coach on the floor that could get all of that inexperienced talent organized and into an offense without turning the ball over. Kentucky needed strength. They needed toughness, both physical and mental. They needed a vocal, commanding leader. The fans knew it. The media harped on that point, especially when Noel went down with a torn ACL.
And Harrow couldn't provide that on a consistent basis.
"I had a long stretch where I was doing really well," Harrow told NBCSports.com, "and then towards the end of the season, it was just hit or miss with me. If I just played like myself and did well, we usually will always come out on top."
Ability wasn't the issue. Harrow had 16 points, eight boards and six assists in an overtime win against Missouri and 13 points in a come-from-behind win over Florida in the final regular season game, stats made all the more impressive by the fact that both games were the most important to date for last year's Wildcats. Those were two bright spots in a season that ended in utter disappointment, however.
Rock bottom came during the postseason. Harrow collapsed. After going 2-15 in in a 16 point loss to lowly Vanderbilt in the first round of the SEC tournament, Harrow was in tears, trying to hide his face from the cameras during his postgame media session as he blamed himself for the loss.
"It just all came out right there. I'm not even a big believer in crying. I really don't like that [everyone saw me]," he said. "But that was real. What happened to me, […] that was everything that was inside of me that came out."
Harrow followed that game up by getting benched after playing just nine minutes as Kentucky got dropped by Robert Morris in the NIT's opening round.
Less than two weeks later, Harrow announced that he would be transferring.
"I really tried not to think about it until the season was all the way over," Harrow said. "It was a hard decision because I knew how good Kentucky was going to be this season."
———————————————————————————————————————
When Harrow announced his decision to transfer out of Kentucky, the assumption was that he was either forced out by Coach Cal or that he headed for the hills when he saw the Harrison twins coming for his minutes. It was an easy connection to make for the armchair college basketball cynic. Coach Cal has run players off before, when he first arrived at Kentucky*. It's a practice that is quite common at that level of the sport. And no one wants to spend a season buried on the bench after getting accustomed to starting.
(*According to a UK spokesperson, "All returning scholarship players from the 2008-09 Kentucky team had an option to return under coach Calipari.")
But Harrow bristles at the notion that he left Lexington for any reason other than being closer to his father.
"We got a saying in my family, 'Family First'," Harrow said. "We've all got that tattooed on us. My dad is the only one in Atlanta, and with the struggles that he's going through, I just thought that it would be best for me to come back and help him with whatever he needed."
According to Harrow, when he made the decision to go to N.C. State, his family moved out of Atlanta to North Carolina to be closer to him. Everyone except his father, that is, which created a problem when pops suffered his stroke. There was no one there to help him. "They thought that his left side would be a little bit more back to normal than it is," Harrow said, "but it's not progressing like they thought."
So Harrow headed home.
"He's always really happy when I'm around," he said. "And I get to see him a lot more now that I'm only ten minutes away."
"I just think that he's finally settled in his life, he's back settled with his family and people that care about him," Hunter added.
Whether Harrow left Kentucky because he saw the writing on the wall or because he wanted to be closer to his dad is largely irrelevant at this point. The NCAA believed his story, which means that Harrow will be eligible this season to run the point for a talented Georgia State.
The Panthers return their top three scorers from last season, including 6-foot-5 shooting guard R.J. Hunter, the head coach's son that averaged more than 17 points as a freshman. Throw in seniors Devonta White and Manny Adkins, who started his career at Virginia Tech, and Coach Hunter has more guards than he'll know what to do with next season. If he can find a way to get consistent interior production from USC transfer Curtis Washington or keep Denny Burguillos eligible, the Panthers are going to be a team that will cause more than a few headaches for opposing coaches.
For the third time in his collegiate career, a coach will be handing the reins to Harrow.
"We're going to put the ball in Ryan's hands and we're going to let him make decisions," Hunter said. "He's not a selfish basketball player. He makes the right play."
For Harrow, this is his shot at redemption. This is his chance to prove that he's more than the guy that flamed out at Kentucky. This is his opportunity to become something other than the answer to a trivia question, to prove to every Kentucky fan and every media member that questioned his ability to handle the pressure that came with playing in front of Big Blue Nation.
"They want to see if I've actually got the heart to lead this team," Harrow said.
He'll have his chance to shine in the spotlight early. Georgia State plays Vanderbilt on November 12th. Six days later, they head to Tuscaloosa for the first two rounds of the Preseason NIT. Knock off McNeese State and Alabama, and Harrow and company will be headed to Madison Square Garden for a game that will be played on ESPN.
For now, Harrow is saying all of the right things. He's not concerned with points or assists, "it's all about wins and losses." He doesn't want postseason accolades or national recognition. When asked what the perfect season would be, individually, he said, "win the Sun Belt, get into the NCAA tournament and make a run" while referencing Butler and Wichita State. He believes that a point guard, that the leader that he wants to be, is defined by nothing more than what the team accomplishes.
He knows what he needs to do.
"Keep my head straight, not getting upset with myself or upset with anybody else," Harrow said. "Just going out there and playing basketball the way that I know that I can play basketball."
And if you believe Coach Hunter, he can play pretty well.
"I tell people this all the time: if Ryan Harrow had played point guard on that team that Marquis Teague was on, he's not here right now," Hunter said.
"He's playing in the NBA."