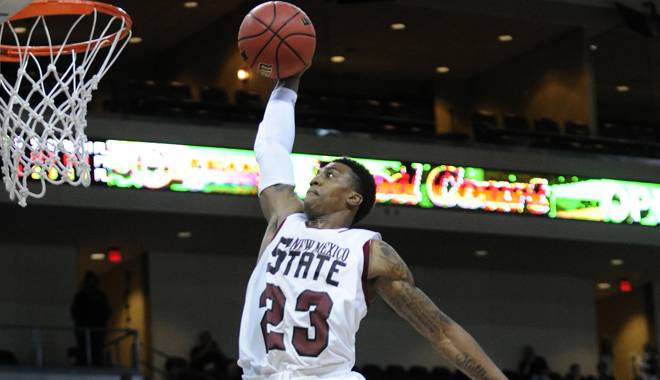 All month long, CBT will be rolling out our 2013-2014 season preview. To browse through the preview posts we've already published, click here.
When the latest round of conference realignment came to its conclusion, the Western Athletic Conference looked nothing like the league many had become familiar with. Of the fifteen players to receive All-WAC honors last season just two return: New Mexico State's Daniel Mullings and Sim Bhullar. Both played pivotal roles on last season's WAC tournament champion squad, with the 7-foot-5 Bhullar winning tournament MVP honors and Mullings earning a spot on the All-Tournament team.
They're also two of the reasons why Marvin Menzies' Aggies are expected to win the conference's regular season title in 2013-14, with Mullings assuming the role of the WAC's most versatile player. As a sophomore Mullings posted averages of 13.8 points, 5.2 rebounds, 2.6 assists and 2.3 steals per game, leading the Aggies in scoring and steals. And with New Mexico State losing two double-digit scorers, including leading rebounder Bandja Sy (11.9 ppg, 7.3 rpg), Mullings stands to have more responsibilities on his plate.
And the overwhelming feeling is that the Toronto native has worked hard enough to be ready for the challenge.
"When Daniel came in, he was relatively raw but very athletic and he was a gym rat," Menzies said in a phone interview with NBC Sports. "He's lived in the gym and worked above and beyond the hours we're allocated to improve his game."
(CLICK HERE to read NBCSports.com's WAC Preview)
After a freshman season in which he was a supplementary piece on an NCAA tournament team led by Wendell McKines, Mullings led the Aggies with a possession percentage of 23.7% as a sophomore. After surpassing the 20-point mark just twice as a freshman Mullings did so nine times in 2012-13, including 23-point outings in late-season wins over WAC regular season co-champion Louisiana Tech and Idaho.
His overall field goal percentage remained about the same (47.0% compared to 48.9% as a freshman), but Mullings' greatest improvement came as a perimeter shooter. After making just 27% of his shots from beyond the arc in 2011-12, Mullings knocked down 37% of his shots from deep and attempted 31 more three-pointers as a sophomore (54 compared to 23 as a freshman).
"The biggest differences [from freshman to sophomore year] were developing my shooting an easing into more of a leadership role alongside our seniors," said Mullings, who also noted his improved played on the defensive end (2.3 spg after averaging 1.6 as a freshman).
Outside of Mullings and the aforementioned Bhullar the Aggies return other contributors from last season's team. Forward Renaldo Dixon (5.6 points, 4.0 boards) proved to be a valuable reserve in 2012-13, center Tshilidzi Nephawe (7.2 points, 5.2 boards) returns after playing in just nine games due to a hand injury and guard K.C. Ross-Miller is the team's third returning starter. But even with this being the case there will be some adjustments to make given the fact that New Mexico State lost two double-digit scorers in Sy and Tyrone Watson (10.3 points, 5.0 boards, 2.8 assists). That's where Mullings' progression as a leader comes into play.
"As I've gone along I've become more vocal," said Mullings. "I've been here for a couple years now so I know the system and what the coaches want, so I'll be able to add whatever knowledge I have to help the new guys and the players returning."
(CLICK HERE to read through the rest of NBCSports.com's feature stories)
New Mexico State adds four newcomers, including 7-foot-4 center Tanveer Bhullar (Sim's younger brother) and New Mexico JuCo transfer DK Eldridge, and they'll have some depth at point guard thanks to the return of Ross-Miller and the arrival of freshman Travon Landry. The combination of talent, experience and conference turnover has made New Mexico State the prohibitive favorite to win the WAC in the eyes of many. It's up to Mullings and his teammates to retain the focus needed in order to accomplish that task and return to the NCAA tournament for a third consecutive season.
"We have to just focus on ourselves and whatever New Mexico State has to do," said Mullings when asked about whether or not the changes within the WAC will affect the Aggies' approach. "We can't worry about everybody else, but obviously we have to be aware of the new teams in our conference."
With a non-conference schedule that includes two games against rival New Mexico as well as contests against Arizona, Colorado State and Gonzaga, New Mexico State should be ready when WAC play begins in January. And there's also a good chance that more college basketball fans will be familiar with Mullings' game if they aren't already.