Given some of the outlandish court designs that have been unveiled this offseason, Creighton's submission isn't one that will spark widespread panic (or worse).
But what the change does represent is a new era, with the school now a member of the Big East Conference. With veterans like Doug McDermott, Grant Gibbs and Jahenns Manigat leading the way, head coach Greg McDermott's program has the pieces needed to be a factor in the Big East immediately.
Creighton won 28 games last season, reaching the NCAA tournament for the second consecutive season. And with the players mentioned above back for another run, fans expect the Bluejays to earn a third straight trip while playing on the new floor.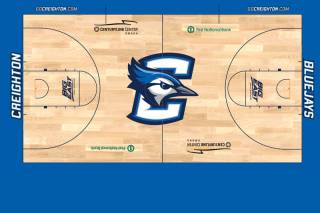 No wild swarm of angry bluejays (for Creighton it's 'bluejay" as one word as opposed to "blue jay") plastered all over the floor. Just the secondary logo at mid-court with the Big East logo in both free throw lanes. The new logo catches the eye, but it's simple. And when compared to some of the other floors we've seen unveiled this summer/fall, that's probably a good thing.