All month long, CBT will be rolling out our 2013-2014 season preview. Check back throughout the day, as we'll be posting three or four preview items every day.
To browse through the preview posts we've already published, click here. The rest of our Top 25 Countdown can be found here. For a schedule of our previews for the month, click here.
Last Season: 27-9, 12-4 Atlantic 10 (2nd); Lost to Michigan in the Round of 32
Head Coach: Shaka Smart (5th season at VCU: 111-36 overall, 50-20 CAA/A-10)
Key Losses: Darius Theus, Troy Daniels, Teddy Okereafor, Justin Tuoyo, D.J. Haley
Newcomers: Jordan Burgess, Mo Alie-Cox, Terrance Shannon, Jequan Lewis, Jairus Lyles, Antravious Simmons, Douglas Brooks
Projected Lineup
– G: Briante Weber, Jr.
– G: Rob Brandenburg, Sr.
– F: Treveon Graham, Jr.
– F: Terrance Shannon, Sr.
– C: Juvonte Reddic, Sr.
– Bench: Melvin Johnson, So.; Jordan Burgess, Fr.; Jairus Lyles, Fr.; JeQuan Lewis, Fr.; Mo Alie-Cox, Fr.; Jarrod Guest, Jr.; Antravious Simmons, Fr.; Doug Brooks, Fr.
They'll be good because …: By now, we all know about Havoc, the all-out, full-court press that Shaka Smart's teams constantly utilize. It's what they're known for, it's what the program takes pride in, and it's the game that gives opposing point guards nightmares. That press is devastating, especially when you consider just how well-conditioned these athletes are. They never get tired. It's demoralizing.
But what makes the Rams especially dangerous this season is that their depth is just ridiculous. Sophomore Melvin Johnson and redshirt freshman Jordan Burgess, the younger brother of former VCU star Brad Burgess, are both former top 100 recruits. And they will both come off the bench this year. Jairus Lyles and JeQuan Lewis could have gone to schools in power conferences. Jarrod Guest, when he gets healthy, will be able to provide minutes up front to spell Juvonte Reddic and Florida State transfer Terrance Shannon. The waves of that press just aren't going to stop this year.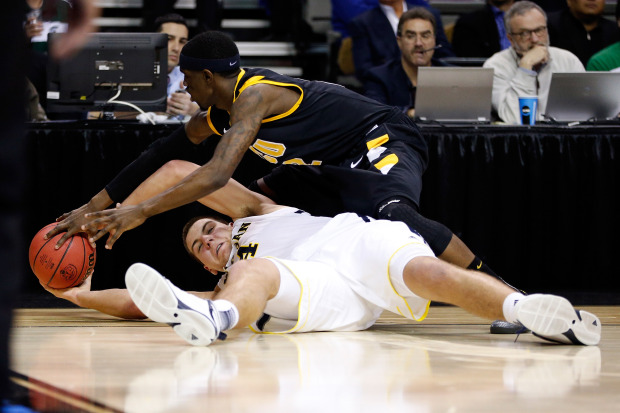 But they might disappoint because …: I have a couple concerns about VCU replacing players they lost from last season. Darius Theus was more valuable to the Rams than he got credit for, as a point guard and as a leader. He'll be tough to replace; Briante Weber, Rob Brandenburg and Johnson are quite talented, but they aren't "true" point guards. It will also be interesting to see where VCU replaces Troy Daniels' perimeter shooting. He made 124 threes last season. As a team, VCU his 278. That's a big loss.
But the biggest concern I have with VCU is that they struggle against teams that can beat their press. VCU's defense last season was 31st in the country in efficiency, leading the nation with a ridiculous 28.5% turnover percentage. Many of those turnovers led to layups, dunks and wide-open threes. It's how the system works. But if they don't get that turnover? They were 294th nationally in defensive rebounding percentage, 226th in defensive effective field goal percentage and 272 in free throw rate. That's why teams with talented and/or veteran guards — a la St. Louis — can given the Rams trouble.
Outlook: I love the makeup of this roster for VCU. Juvonte Reddic is a beast in the paint, and with Terrance Shannon on the roster, he'll have some help in the paint this season. Weber, Brandenburg and the rest of VCU's hellishly-quick back court will force plenty of turnovers, and Treveon Graham is back for what should be a big junior season.
The difference maker on this team? Jordan Burgess. Like Graham, he's a big, strong three that can get a three just as well as he can grab a rebound. His presence on the roster is what will give Smart so much more lineup flexibility. Smart can go with a small lineup, using Graham and Burgess together at the forwards spots, and not have to worry about playing a team with three guards on the floor. That will allow Shannon to spell Reddic at the five spot more often.
The point guard issues are a bit disconcerting, especially when you consider that VCU was not a greay team at executing in the half court last year. But that defense? That will make them the odds-on favorite to win the Atlantic 10 this season.