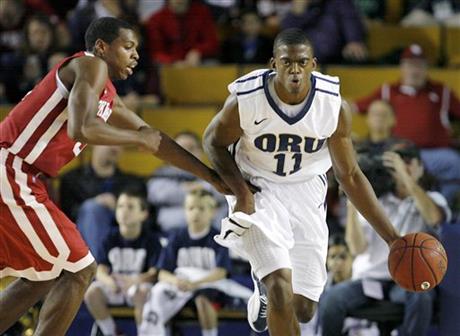 All month long, CBT will be rolling out our 2013-2014 season preview. To browse through the preview posts we've already published, click here.
During a three-year run atop the Summit League, Scott Sutton racked up some pretty impressive wins. He's not about to let anyone, least of all his young Oral Roberts basketball squad, forget about it.
In the '05-'06 season, ORU drubbed Southern Cal by twenty points. The next year, Sutton took his charges into Lawrence, KS and left with a stunning 78-71 upset of No. 3 Kansas on his resume. In '07-'08, Oklahoma State and crosstown rival Tulsa felt his wrath.
In each of those seasons, the Golden Eagles went to the NCAA tournament as low-seeded auto-bid winners, and lost handily to power programs.
Then mid-major reality set in. Sutton's team never lost more than five league games in any season since then, but losses in the Summit tourney left them outside the Big Dance, peering in. To add insult to injury, the far-flung Summit League kept adding ever more distant members, forcing the Golden Eagles to spend an unsustainable amount of money on the travel budget. When the opportunity came to join the Southland Conference a season ago, it was a fiscal no-brainer. The team never has to leave red-dirt country during conference play, and has the same single shot at making the NCAA tournament, so why not?
"It did make it a little bit easier, because you don't have to worry about going up north and getting stuck in airports because of weather," Sutton said. "Now we end up driving five or six hours for a lot of our trips. It has also allowed us to recruit south Texas and New Orleans more, which is great."
(MORE: Read NBCSports.com's Southland Conference preview here)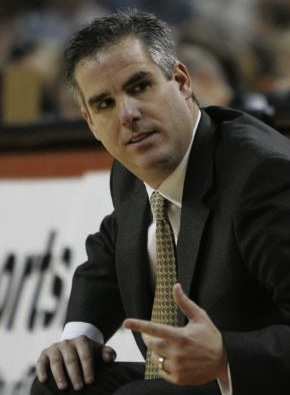 For Sutton and the Golden Eagles, getting that auto bid and a long-awaited return trip to the NCAA tournament has to be paramount. Nonetheless, wouldn't a couple more marquee non-conference victories be nice? Especially if they teach David how to beat Goliath in March?
Sutton certainly isn't ducking his opportunities. This year's ORU slate is pretty brutal before New Year's Day. November takes them to play at Tulsa again, then to the Little Apple to face Kansas State. Then it's at St. Louis and at Wisconsin. In December, they visit Final Four darling Wichita State and swing on by Baylor to close out the year. For a lesser coach with a lesser team, it could be soul-crushing.
"We're not quite as young as we look on paper," Sutton warned. "This group ought to be able to withstand that schedule, and it'll make us tougher and better."
Sutton knows what he's doing. He's always got those wins in Lawrence and Stillwater to drag into the pregame talk, and you can bet he'll point to future foe Gregg Marshall's Shockers as evidence of the power of positive mid-major thinking.
"We've won a bunch of those games," he said."We mention them a lot, and it gives our guys confidence."
(CLICK HERE to read through the rest of NBCSports.com's feature stories)
He'll have some decent size, led by Utah transfer Shawn Glover, and he's always done a great job of coaching up the players who come to play for him in Tulsa. The news that Missouri State transfer and Tulsa native Drew Wilson will be immediately eligible to play after applying for a hardship waiver was more good news. Throw in former Arkansas commit Dederick Lee and the Eagles have the look of a long-term contender.
"The Sutton name is good throughout Arkansas, because of my dad," the ORU coach said, harkening back to the eleven quality years and a Final Four appearance his legendary father brought to the Razorbacks program in the 1970's. "Dederick committed to Arkansas early, and when he decommitted, we jumped all over him. He likes that he has a chance to come in and be an impact player right away."
Sutton expects senior forward Glover to challenge for league POY honors, and he likes the way his recruiting classes are layered behind the big man.  With point guard Jabbar Singleton leaving his hometown of New Orleans to team up with fellow freshman Lee in the backcourt, the future looks bright for the Golden Eagles.
The Southland is forewarned, for sure. But those giant programs with Final Four aspirations had better look out for Oral Roberts in November and December as well.
If all goes as planned for Sutton and Company, March could spell even more trouble for the nation's bluebloods.