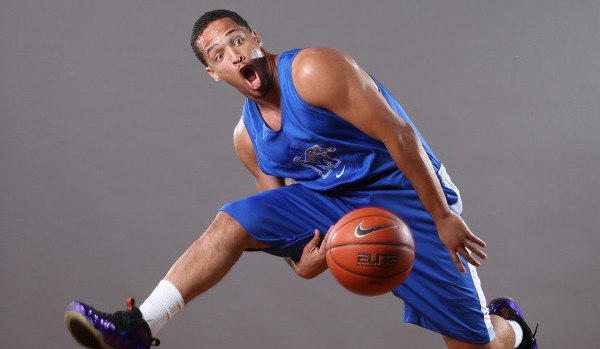 All month long, CBT will be rolling out our 2013-2014 season preview. Check back throughout the day, as we'll be posting three or four preview items every day.
To browse through the preview posts we've already published, click here. To see the rest of our preview lists,click here. For a schedule of our previews for the month, click here.
1. Rodney Hood, Duke (via Mississippi State): Jabari Parker isn't the only Duke forward that being considered an All-American candidate this preseason. After sitting out last season, Hood joins Parker and Rasheed Sulaimon to give Duke one of the best perimeters in the country. The 6-foot-8 Hood suffered an Achilles injury this summer, but has completely recovered. He averaged 10.3 points and 4.8 rebounds per game as a freshman at Mississippi State.
2. T.J. McConnell, Arizona (via Duquesne): There has been buzz around newcomer Aaron Gordon, and rightfully so. But those in Tucson should be excited for T.J. McConnell's debut in a Cats uniform. McConnell is a true point guard Arizona needs, and Sean Miller has given the junior one of the best front courts to create for. McConnell averaged 11.4 points and 5.5 assists in his final season at Duquesne in 2011-2012. The pass-first point guard is also a pest defensively (2.8 spg) and may be the best deep threat on the Wildcats.
3. Michael Dixon, Memphis (via Missouri): He had to wait it out, but Michael Dixon got cleared to play this season at Memphis in last month. Dixon was named Big 12 All-Defensive team in 2012 and also averaged 13.5 points and 3.3 assists for a 30-win Mizzou team. He gives Memphis one of the nation's best back courts, and his addition allows Josh Pastner to go with a four-guard set against opposing defenses this season.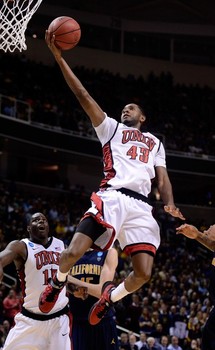 4. Mike Moser, Oregon (via UNLV): Dana Altman has benefited from one-year transfers before and that's what he's hoping for with Moser, who left Las Vegas for Eugene for his final season of eligibility. He averaged averaged 14.5 points and 10.0 rebounds a game two seasons ago with the Rebels. He decided not to jump to the NBA, but injuries and an overcrowded front count caused his numbers to dip this past season. A healthy Moser should thrive with the Ducks.
5.  Jordan Clarkson, Missouri (via Tulsa): Jordan Clarkson is making the move to the SEC from Conference USA where he averaged 16.5 points, 3.9 rebounds and 2.5 assists points per game in 2011-2012. The 6-foot-5 Clarkson will be the lead guard this year, playing both point and off-the-ball, since Phil Pressey declared for the NBA draft.
6. Josh Davis, San Diego State (via Tulane):  Josh Davis will be eligible immediately after graduating from Tulane. The athletic forward, who averaged 17.6 points and 10.7 rebounds last season, will help make up for the loss of Jamaal Franklin and Chase Tapley, the Aztec's top two scorers a season ago.
7. DeAndre Kane, Iowa State (via Marshall): Iowa State lost its top guards to graduation, and last month Bubu Palo who was dismissed from the team. Once again Fred Hoiberg went to the transfer wire, this time landing DeAndre Kane, a 6-foot-4 lead guard that averaged 7.1 assists per game last season to go along with his career average of 15.6 points per game in three seasons at Marshall. He'll join a team that brings back forwards Melvin Ejim and Georges Niang but was sorely lacking in back court playmakers.
8. Josh Smith, Georgetown (via UCLA): John Thompson III lost Otto Porter to the NBA and, in all likelihood, Greg Whittington for the season with a torn ACL. Ex-UCLA big man Josh Smith will be eligible for the second semester if he doesn't get a waiver to play immediately. JT3 knows that Smith has the ability to be an all-league player, but his impact for the Hoyas depends on his conditioning.
9. Michael Gbinije, Syracuse (via Duke): Gbinije transferred out of an ACC program and into a Big East school, now in its first season of ACC play. The Orange are without Brandon Triche or Michael Carter-Williams, meaning their back court is made up of freshmen Tyler Ennis and Ron Patterson and sophomore Trevor Cooney, who is coming off a disappointing season. At 6-foot-6 Gbinije will be solid on top of the 2-3 zone, can add depth to the small forward position, and has even worked on his point guard game during his redshirt season.
10. Tarik Black, Kansas (via Memphis): Tarik Black didn't average more than five rebounds per game in his last two seasons at Memphis, but his role at Kansas will be important. It's a young team headlined by Andrew Wiggins, Wayne Selden, and Joel Embiid. He'll be valuable as a physical, veteran low-post presence.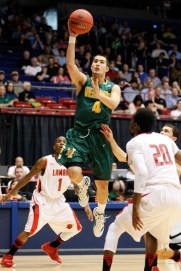 10 more guys that should be in for a big season
Antonio Barton, Tennessee (via Memphis): Barton filled a void for the Vols at the point when Trae Golden transferred. His shooting and defense gives the Vols even better chances of getting back to the NCAA tournament.
Gerard Coleman, Gonzaga (via Providence): Coleman averaged 13.2 points and five rebounds a game at Providence in 2011-2012. Will fit in nicely alongside Kevin Pangos and Gary Bell.
Alex Dragicevich, Boston College (via Notre Dame): Ryan Anderson and Olivier Hanlan have reason for hope in Chesnut Hill. Notre Dame transfer Alex Dragicevich can add more long-range shooting for Steve Donahue's team.
Dorian Finney-Smith, Florida (via Virginia Tech): Chris Walker isn't enrolling this semester, and Will Yeguete is still recovering from a knee injury. Finney-Smith, along with fellow transfer Damontre Harris, are that much more important for front court depth alongside Patric Young.
Derrick Gordon, UMass (via Western Kentucky): The Minutemen have a good shot at the NCAA tournament this season, and Derrick Gordon has that postseason experience after his freshmen year at Western Kentucky. He and Chaz Williams can help UMass hang with the top teams in the Atlantic 10.
Lasan Kromah, UConn (via George Washington): Kromah averaged 10.1 points last season and only improves the UConn back court of Shabazz Napier, Ryan Boatright and Omar Calhoun.
Jermaine Marshall, Arizona State (via Penn State): Adding Jermaine Marshall from Penn State helps negate from the loss of Evan Gordon. He averaged 15.3 points per game last season.
Four McGlynn, Towson (via Vermont): The Tigers will contend in the CAA, and add Vermont transfer, who averaged 12.0 points in his lone season with the Catamounts.
Rayvonte Rice, Illinois (via Drake): The Illini lose Brandon Paul and D.J. Richardson from last season, but Rayvonte Rice, who averaged 16.8 points, 5.8 rebounds and almost two steals per game in 2011-2012, should help fill the void.
Matt Stainbrook, Xavier (via Western Michigan): The former Western Michigan big man is reportedly an inch taller and down 40 pounds since last playing during the 2011-2012 season, where he averaged 11.4 points and 6.8 rebounds per game.