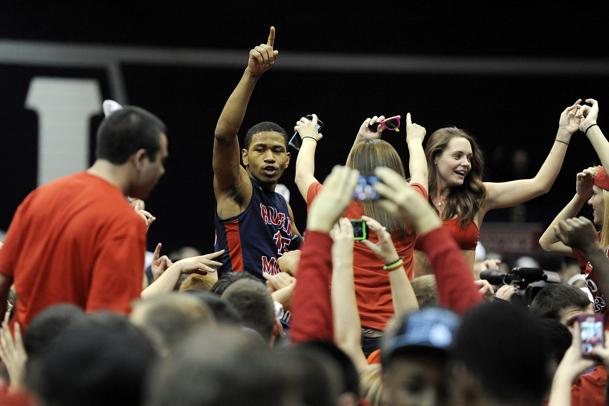 All month long, CBT will be rolling out our 2013-2014 season preview. To browse through the preview posts we've already published, click here.
It was one of the more memorable and heartbreaking games of the 2010 NCAA Tournament.
Robert Morris, coached then by Mike Rice, had No. 2 seed Villanova on the ropes that Thursday afternoon in Providence leading for much of the game only to have the Wildcats eke out a 73-70 win in overtime. Color commentator Bill Raftery summed up the game perfectly following the gut-wrenching loss that left dynamite freshman point guard Karon Abraham motionless on the floor: "They only lost on the scoreboard, Vern."
Much of the appeal of the NCAA Tournament is watching schools seldom heard of win a game and advance to the next round, and it looked like No. 15 seed Robert Morris was on their way to doing just that. Despite the deflating loss, the Colonials were becoming a household name in the NEC and mid-major basketball.
(MORE: Click here to read NBCSports.com's NEC Preview)
Fast forward three years and the program is under new leadership with Andy Toole at the helm. While Robert Morris hasn't been back to the NCAA Tournament since 2010, they've been to the postseason and won games two of the past three seasons. Toole would tell you there was already momentum building even before Rice took over as head coach in 2008. It began with Mark Schmidt, the current head coach at St. Bonaventure, the prior season as they went 26-8 and nearly upset Syracuse in the NIT. Up until this point, Robert Morris was buried in obscurity. They hadn't been to the NCAA Tournament in nearly 20 years and many didn't know much about the school and basketball program.
Toole told NBCSports.com by phone: "We were hitting wall after wall after wall in terms of people not knowing what Robert Morris and our basketball team was all about at that point in time. After going to the NCAA Tournament and almost beating Villanova, we started getting call backs; they had a point of reference after seeing us in the NCAA Tournament back to back years. That game legitimized us."
While the Villanova game may have legitimized Robert Morris, it was their NIT win at home over Kentucky last season that placed them at the forefront of the college basketball world.
It was the perfect storm for Andy Toole and his program. On the heels of being upset in the NEC tournament by Mount St. Mary's, Robert Morris was paired with Kentucky — the 2012 NCAA Champions — in the first round of the NIT. Since Rupp Arena was one of the eight venues for the second and third rounds of the NCAA Tournament, Kentucky was forced to travel to Moon Township to play Robert Morris at Robert Morris. The game was played on a Tuesday night, which allowed for a nice buffer period in between Selection Sunday and the Thursday games. After their win over Kentucky, the talk all day Wednesday wasn't about the NCAA Tournament, but rather the NIT. Again, it was the perfect storm.
(CLICK HERE to read through the rest of NBCSports.com's feature stories)
"This year with the win against Kentucky, that put us on center stage for a few days because of some incredible timing and incredible circumstances. This was another perfect opportunity for people to learn about the program."
It wasn't long ago that Robert Morris was struggling to just have conversations with top recruits that they were targeting, but now that conversation is much easier to come by. Toole explained while the recent success and exposure doesn't always lead to landing top-flight recruits, they are now in contention for them. "It doesn't guarantee that we're always going to get the recruits. We still have to do our due diligence to make sure we are targeting the right kids for our school and program, but we are at a starting point that is so much different than it was six years ago.
The exposure Robert Morris has generated on a national level since 2009 has helped to elevate the program to another level and, predictably, that is paying great dividends. Specifically, the geographical footprint that Toole and his staff are now recruiting from has vastly expanded.
"We are recruiting from a much wider geographic area. We were in Florida recruiting and people recognized us. We were recruiting a kid from Kansas and people recognized us. We have a kid on this year's team (Desjuan Newton) who played junior college in Arizona and is originally from Seattle and he knew about the [Kentucky] game."
The key now is to sustain the momentum that has been building since 2009, which will be no easy task as the NEC has steadily improved as a league. "You see a lot of young staffs in the NEC who are trying to make names for themselves. They're really getting out there and recruiting, and maybe not taking the same old thought process of, 'Well, we're just a Northeast Conference school, that kids not going to want to come here.' That's not the case. I think you see that across the board and why the programs are getting better and better."
While Toole has continued the momentum his predecessors Schmidt and Rice began, he has yet to win the NEC and advance to the NCAA Tournament. Nearly defeating Villanova in 2010 and beating Kentucky in 2013 may have been steps one and two. The next step is getting back to the NCAA Tournament and winning a game, something Robert Morris hasn't accomplished in 30 years.