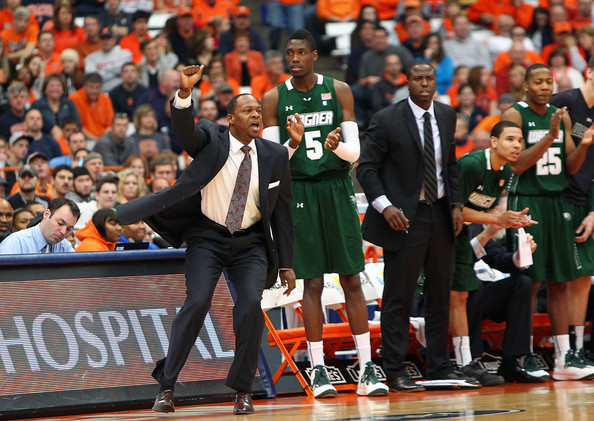 All month long, CBT will be rolling out our 2013-2014 season preview. Check back throughout the day, as we'll be posting three or four preview items every day.
To browse through the preview posts we've already published, click here. To see the rest of the Conference Previews we've published, click here. For a schedule of our previews for the month, click here.
One would have to go back to 2008 to find the last time an NEC team not named LIU Brooklyn or Robert Morris reached the NCAA Tournament. The two teams have had a stranglehold on the league during this stretch with LIU Brooklyn having won three straight league titles (2011-13) and Robert Morris two straight (2009-10). Even though the Colonials missed out on the big dance last season, you may remember they defeated Kentucky at home in the NIT. There's little doubt who's owned the NEC for the past half-decade, but that figures to change.
Although the Blackbirds won the NEC tournament last season, they finished 12-6 in the regular season – good for a three-way tie for second place. With graduation claiming Jamal Olasewere and sixth-year senior forward Julian Boyd — who will be out until at least January after re-tearing the ACL in his right knee — a question mark all season, LIU Brooklyn's run atop the NEC is in danger. Robert Morris will challenge, but losing Coron Williams to Wake Forest and Velton Jones to graduation are big voids to fill.
(MORE: Can Robert Morris build off of their upset win over Kentucky?)
There's a new sheriff in town, and that's the Wagner Seahawks. In his second season as head coach, Bashir Mason, the youngest coach in America, has Wagner in a prime position to build on their 12-6 conference record from last season. Mason, who took over for Dan Hurley in 2012, inherited a talented team with Southern Mississippi transfer Kenneth Ortiz in the backcourt playing alongside Latif Rivers. Perhaps Wagner's top player, however, was watching from the sidelines last season – Jay Harris, a transfer from Valparaiso. Also keep an eye on former top 100 recruit and Michigan State transfer Dwaun Anderson.
Along with Wagner, upstart Bryant — who had won 19 games last season after just two in 2011-12 — will be a contender. Tim O'Shea returns perhaps the league's best player in 6-foot-6 forward Alex Francis, along with sharpshooter Dyami Starks who connected on better than three three-pointers per game a season ago.
REALIGNMENT MOVES
In: N/A
Out: Monmouth and Quinnipiac
PRESEASON NEC PLAYER OF THE YEAR: Alex Francis, Bryant
Francis (17.4 ppg, 8.6 rpg, 1.8 apg) has been a staple in Bryant's lineup since his freshman season. Assuming he scores at the same rate he did last year, he will eclipse the 2,000 point career scoring mark.
FOUR MORE NAMES TO KNOW
Kyle Vinales, Central Connecticut State: There was a moment where it looked like Vinales would transfer to Toledo, but in returning to CCSU he'll have a chance to lead the NEC in scoring for the second straight year.
Jay Harris, Wagner: The transfer from Valparaiso who sat out last season will be a fixtutre in Bashir Mason's lineup.
Jason Brickman, LIU Brooklyn: The best point guard in the NEC, Brickman ranked top five nationally in assists per game a season ago.
Lucky Jones, Robert Morris: Will step into more of a leadership and go-to scoring role this season; one of the top three-point shooters in the league.
ONE TWITTER FEED TO FOLLOW: @pioneer_pride
PREDICTED FINISH
1) Wagner
2) Bryant
3) Robert Morris
4) Mount St. Mary's
5) Central Connecticut
6) LIU Brooklyn
7) Sacred Heart
8) St. Francis (NY)
9) St. Francis (PA)
10) Fairleigh Dickinson