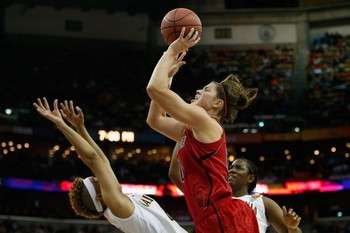 I had forgotten that there is such a thing as a homecoming court, but at Louisville, where the reigning national champs reside, it's quite possible that a Cardinals basketball player will supplement his national title ring with some more bling: a homecoming crown.
Card Chronicle turned up the fact that both Russ Smith and Luke Hancock are in the running for the campus Homecoming King slot. And apparently they're not the first (nor likely the last) hardcourt heroes to make the list.
Luke Hancock and Russ Smith are the two potential basketball Cards who could be named king, a title which will be announced during halftime of the homecoming game against Central Florida on Oct. 18 (I think). Each will be trying to follow in the footsteps of former hoops kings Kyle Kuric (2011) and Peyton Siva (2012).
According to the blog, it could be an all-hoops sweep, as women's team member Sara Hammond (pictured) made the short list for Queen. The Cards were Final Four participants on the women's side of things as well.
All told, it's a good year to be a Cardinal, as long as you avoid the knuckleheads in Boston sports radio.