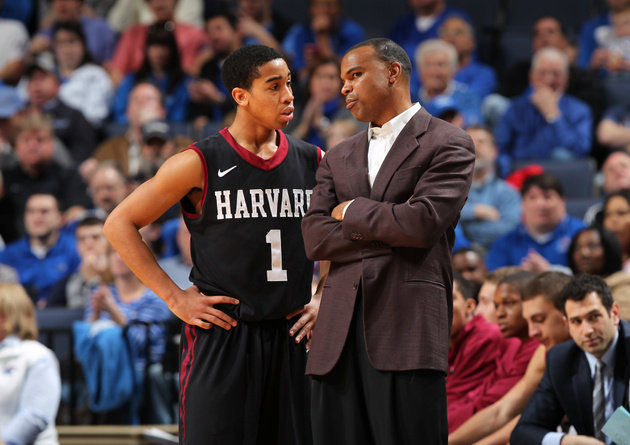 All month long, CBT will be rolling out our 2013-2014 season preview. To browse through the preview posts we've already published, click here.
After winning the Ivy League title outright in the 2011-12 season and earning their first bid to the NCAA Tournament since 1946, Harvard was poised to repeat as Ivy champs the following season, and perhaps even win their first game in the tournament. Those hopes appeared to be dashed in September of 2012 when it was announced Harvard would be without Kyle Casey and Brandyn Curry due to an academic scandal.
Think again. Thanks in large part to the emergence of Wesley Saunders and Siyani Chambers, an immediate impact player at point guard, Harvard won the Ivy League and shocked No. 3 seed New Mexico in the NCAA Tournament to the tune of a 68-62 victory. Saunders and Chambers effectively slid in and took over the roles previously held by Casey and Curry. What ensued was a solid 20-10 overall record, an Ivy League championship, and the school's first NCAA Tournament victory. Not to mention, it was Harvard head coach Tommy Amaker's first win in the tournament since his days at Seton Hall.
Compound Harvard's success last year with the fact that only one player, Christian Webster, was claimed by graduation and the return of Casey and Curry, along with incoming freshman Zena Edosomwan, and the Crimson are a legit Top 25 team.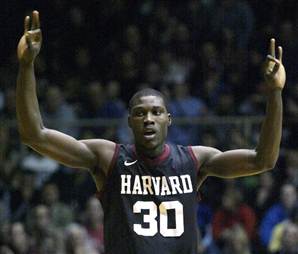 (MORE: Click here to read NBCSports.com's Ivy League Preview)
On paper, Harvard certainly is Top 25 quality. Entering the season, the biggest question mark isn't who will be the "go to" scorer, the defensive stopper, the spot-up shooter, or low post presence — the Crimson have seemingly all their bases covered from a personnel standpoint. The question is: How will Casey and Curry, who have been absent for a year, fit back in with the team?
Tommy Amaker isn't the least bit concerned. He told NBCSports.com by phone: "I don't foresee any issues with Kyle and Brandyn meshing in. They're kids who want to win, and they've made that incredibly clear throughout their time here at Harvard. I think they recognize how important it is to fit in. It's just not these two guys, it's how we all approach it. It's a different year — every year's different even if you have the same players. These guys have recognized that good things occurred in their absence, and they're here to help the team push the ball up the hill. "
At the time, it was unclear what the immediate future would look like for Casey and Curry. To go from being the faces of the program to outsiders, so to speak, was difficult. Amaker never felt that the two would seek to transfer and take their last year of eligibility elsewhere. "We never had any concerns whatsoever with them returning. Those kids and their families came here to go to Harvard. To have an opportunity to graduate from here, they weren't walking away from that."
(CLICK HERE to read through the rest of NBCSports.com's feature stories)
For the 2011-12 season, Casey and Curry were fixtures in the starting lineup, to go along with Keith Wright, Laurent Rivard, and Oliver McNally. The duo combined to average 19.3 ppg, 7.5 rpg, and 5.7 apg with Casey being the team's leading scorer.
Initially, it was difficult to find the silver lining in having two of his top players and co-captains away from the program for a season, but Amaker explained that it forced other players to mature and elevate their games at a faster pace. The adage "next one in" is one that is often used in football when a player is hurt in the midst of a game and the second string guy has to come in off the bench. Wesley Saunders was that "next one in" for Harvard.
"We went on a tour of Italy last summer as a team and those guys [Kyle Casey and Brandyn Curry] were there, but our best player for the whole foreign tour was Wesley Saunders. We anticipated that this young man was in store for something pretty darn special, and with or without various individuals, we saw that."
With the emergence of Saunders, who went from seeing just 13.9 mpg and averaging 3.3 points as a freshman to 37.3 mpg and 16.2 points — the tops in the conference — and Siyani Chambers taking over at point guard, Harvard still had the pieces to be successful. However, losing both co-captains with the season set to begin in just months certainly made for an ominous feeling within the program.
Amaker recognized this and communicated it to his team prior to the season's beginning: "We may not have what we had, but we have enough."
His words held true. Harvard did, indeed, have enough as they won the Ivy League championship and advanced to the Round of 32 in the NCAA Tournament.
With Casey and Curry back in the fold, there is no telling how far Harvard can advance this season. There has been a lot of buzz surrounding the program during the offseason, and talks of advancing even further in the NCAA Tournament have already begun. Amaker was quick to point out how he and his team deal with high expectations: "We're very much a believer that expectations is an external word. We focus on our standards, which is an internal word. The three components that are important to us are standards, identity, and goals. If we give our best effort in these three categories, we are very much at peace with who we are."
If success in these categories translates to another run in the NCAA Tournament come March — an even deeper one this time — Tommy Amaker and Harvard basketball will certainly be at peace.