All month long, CBT will be rolling out our 2013-2014 season preview. Check back throughout the day, as we'll be posting three or four preview items every day.
To browse through the preview posts we've already published, click here. The rest of our Top 25 Countdown can be found here. For a schedule of our previews for the month, click here.
Last Season: 25-10, 13-5 Pac-12 (1st); Lost to Minnesota in the Round of 64
Head Coach: Steve Alford (1st season at UCLA)
Key Losses: Shabazz Muhammad, Larry Drew II, Josh Smith, Ben Howland (coach)
Newcomers: Zach LaVine, Noah Allen, Bryce Alford, Wannah Bail, Steve Alford (coach)
Projected Lineup
– G: Zach LaVine, Fr.
– G: Jordan Adams, So.
– F: Kyle Anderson, So.
– F: Travis Wear, Sr.
– F: David Wear, Sr.
– Bench: Norman Powell, Jr.; Tony Parker, So.; Noah Allen, Fr.; Bryce Alford, Fr.; Wanaah Bail, Fr.*, Isaac Hamilton, Fr.*
They'll be good because …: There is a lot to like about the talent on this roster, and if Steve Alford can catch a couple of breaks in his first season in Westwood, the Bruins have a chance to put together a team capable of winning the Pac-12. Jordan Adams should be healthy coming off of his broken foot, and if Zach LaVine ends up being as good as the folks around the UCLA program believe, the Bruins should have a pair of talented scorers surrounding Kyle Anderson. That should allow Anderson to be more of a playmaker on the offensive end of the floor this season even if he isn't the primary ballhandler.
The Wear twins are good players and known quantities, but UCLA's front court could make a massive leap this season if Tony Parker actually got himself into shape. We've been down that road with big UCLA centers (Josh Smith anyone?), but Parker's talented enough to be one of the best bigs in the conference. The x-factors will be Wanaah Bail and Isaac Hamilton, both of whom are waiting for an NCAA ruling to find out if they will be cleared this season.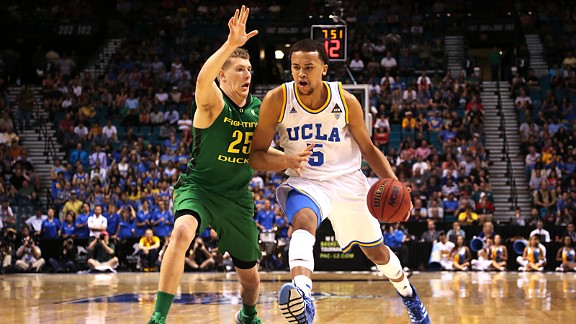 But they might disappoint because …: The biggest issue that UCLA has is that there really isn't a point guard on the roster. Anderson wants to be a point guard, but he's slow-footed and 6-foot-8. At this level, he's a power forward that UCLA can run their offense through. He can be Draymond Green, and that's a compliment. But it doesn't mean that he will embrace that role. Outside of him, who can run the show for UCLA? LaVine and Bryce Alford are known more as scorers than they are lead guards. Norman Powell is certainly at his best playing off the ball. Larry Drew II had a bad reputation for what happened at North Carolina, but he had a very good season running the show for UCLA last year. It's weird saying this, but UCLA is really going to miss him.
The other issue is whether or not Alford can make the pieces on this roster fit together. He coaches a similar brand of basketball as former head coach Ben Howland, in that he wants his teams to be physical defensively and relatively deliberate on the offense end. These aren't kinds that he recruited into the program. This is a team that had issues last season living up to expectations and fitting in together on the court, and a new coach is supposed to come in and solve those problems? That's a tall task.
Outlook: I really don't know what to expect from this UCLA team. I could see them battling Arizona for the Pac-12 title, and I could see them missing out on the NCAA tournament entirely. Much of their success will depend on two things — whether or not Hamilton and Bail will be available for Alford to use this season, and whether Anderson and Parker improve as sophomores.
Here's another thing to keep in mind: the Pac-12 is going to be as good as it has been since the likes of Kevin Love and James Harden were still collegians. What that means is that UCLA won't have much in the way of margin for error; it's not crazy to think that the Bruins could slide into seventh in the conference. Is that enough for UCLA to get a tournament bid? And if they miss out on the Big Dance, will some of the Class of 2015's elite recruits from SoCal — Ivan Rabb, Tyler Dorsey, Aaron Holiday — drop UCLA from consideration?