All month long, CBT will be rolling out our 2013-2014 season preview. To browse through the preview posts we've already published, click here.
"If you look good, you feel good. If you feel good, you play good. If you play good, they pay good."
Those are the famous words of Deion Sanders, and while college basketball players certainly can't be "paid" the words can be applied to the college game. Why? Shoes, that's why. While signature shoes saw their start in the 1980s it took some time for college players to add their own personal style, with many of the nation's top programs going with a more uniform look when it comes to footwear.
In recent years some programs have given their players more freedom to express themselves in this regard, and the results have grabbed the attention of many. One program that's stood out in this regard is Miami, whose school colors (orange and green) tend to lend itself to more self-expression when it comes to footwear. Last year's ACC champions displayed a wide variety of looks, catching the attention of both college basketball fans and diehard "sneakerheads."
With the freedom to add their own personal flair, what shoes a player wears on the floor can become competitive but in a good way. Teammates can turn this into a good-natured competition of sorts, with the goal being to make sure no one's shoe looks better than theirs.
"Definitely, especially between Shane [Larkin] and Durand [Scott]," Miami senior guard Rion Brown told NBCSports.com in a phone interview. "Of course guys like myself, Kenny [Kadji] and Erik Swoope jumped in. Every time a new shoe came out we wanted to get it before someone else got it, and we tried not to tell anybody [else] what shoe we had until the game started."
The Hurricanes displayed some interesting footwear, and as Brown noted in the phone interview their colors (orange and green) worked well with some of the new shoes the program's official supplier (Nike) released. Big man Julian Gamble wore the SoleFly x Jordan Spiz'ike shoe during the NCAA tournament last season, with the shoe being designed to commemorate SoleFly's (a Miami-based sneaker boutique) two-year anniversary. As for the aforementioned Larkin, he wore volt colorways of both the LeBron X and the Spiz'ike (the special Black History Month release) during the ACC and NCAA tournaments. And among the sneakers worn by Scott last season were the Black History Month version of the Kobe 8 and the Zoom Huarache 2K4 Volt.
In regards to which players were the most creative last season, that was a tie according to Brown.
"I would probably say that was between Kenny and Shane," said Brown. "Shane always had the most "up to date" shoes, and Kenny always picked the weirdest ones."
CLICK HERE to read through the rest of NBCSports.com's feature stories
Miami isn't the only school with players who like to stand out via their footwear, and the companies have aided in this process. Players at Arizona, San Diego State, UNLV and many other programs have caught the attention of sneaker collectors in recent years thanks to some of their footwear choices. North Carolina even has a team-specific version of the Jordan XX8 that they'll wear this upcoming season.
Gone are the days of the old-fashioned Chuck Taylor shoe being worn on the court, much to the chagrin of some traditionalists from a style standpoint, with technology improving as well as consumers being able to practically design their own shoe (for a higher cost, of course).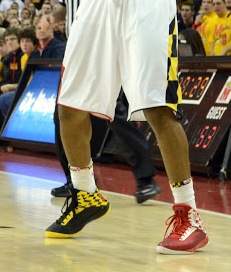 That can go a variety of ways, from players creating their own designs to manufacturers designing special shoes for the programs they sponsor. One example of this would be Maryland, which is sponsored by Under Armour (founded by Maryland alumnus Kevin Plank). For their game against N.C. State in January the Terrapins wore a full "Maryland Pride" ensemble, complete with a pair of sneakers that featured different patterns in order to replicate the look of the Maryland state flag.
Another program that's been one of the more creative in college basketball is Baylor, who wore those unforgettable "electricity" uniforms during their run to the Elite Eight in 2012. During the Big 12 tournament the Bears, who won the Postseason NIT, wore uniforms designed by adidas that had sleeves and their colors also led to some eye-catching footwear choices.
Is a player's shoe choice the difference between winning and losing? Unless the player's out on the floor playing in an uncomfortable shoe with its best feature being multiple holes in the sole the answer is obviously no. But while sneakers are clearly a billboard for the manufacturer, they also give the players an opportunity to show off some of their personality.
Some will go with the standard team issue sneakers, either because it isn't that big of a deal to them or they play for a school that prefers that they go with a more conservative approach. And on the other end of the spectrum are the players who want to make a statement in two regards: with their play, and with their fashion sense.
As for Miami, Brown and his teammates will look to continue to wear distinct shoes despite the majority of last season's squad moving on to the professional ranks.
"Me and Erik will definitely look to step our game up and keep it going." said Brown, who noted that the Hurricanes' newcomers are catching on when it comes to the footwear. "Even our three walk-ons, Justin Heller, Mike Fernandez and Steve Sorenson, have already started getting their shoes ready."