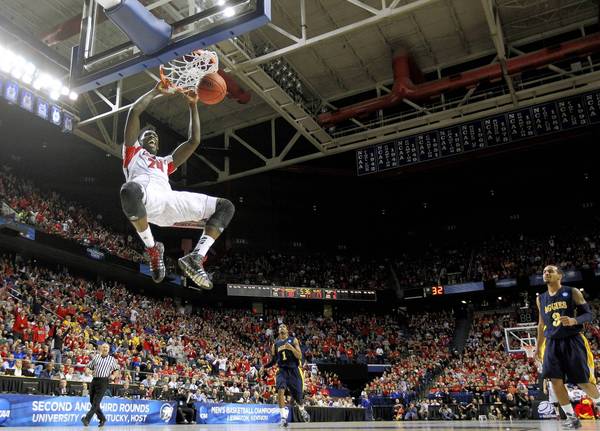 All month long, CBT will be rolling out our 2013-2014 season preview. Check back throughout the day, as we'll be posting three or four preview items every day.
To browse through the preview posts we've already published, click here. To see the rest of our preview lists,click here. For a schedule of our previews for the month, click here.
Last November, there were a precious few who actually knew who Kelly Olynyk was. Fast forward a year, and he turned an all-american season into becoming a lottery pick. Every year, there are players that break out and become stars, whether it's because of a larger role thanks to someone's departure or the fact that they spent their summer getting after it in the gym. Here are 21 guys that have a chance to do just that this season.
1. Montrezl Harrell, Louisville: I think Harrell is in line for a huge season with the Cardinals. Harrell played really well in limited minutes as a freshman and was quite impressive competing for Team USA at the U19 World Championships. He can't replace Gorgui Dieng's passing ability or shot-blocking, but he's an aggressive big man that will attack the glass, run the floor and play hard for 40 minutes. On a team that lacks interior depth, he could average a double-double.
'12-'13: 5.7 ppg, 3.6 rpg
2. Sam Dekker, Wisconsin: Dekker is one of the most talented players to come through the Wisconsin program in recent years, the rare five-star recruit that Bo Ryan lands. An athletic, 6-foot-7 wing with range, Dekker should be Wisconsin's No. 1 option offensively with Ryan Evans, Jared Berggren and Mike Breusewitz graduation. If he can play with the efficiency he had as freshman with a heavier work load, Dekker has a shot at being Big Ten Player of the Year.
'12-'13: 9.6 ppg, 3.4 rpg, 39.1% 3PT
3. Rodney Hood, Duke: Hood spent last season sitting out in Durham after transferring into the program from Mississippi State, and despite the fact that he's on a team with Jabari Parker and Rasheed Sulaimon, I wouldn't be surprised to see Hood have the kind of season that earns him All-American consideration. As a freshman, the athletic, 6-foot-8 lefty found a way to average double-figures on a team that included Dee Bost, Arnett Moultrie and Renardo Sidney. That's more impressive that it sounds.
'11-'12: 10.3 ppg, 4.5 rpg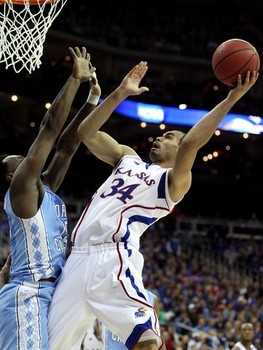 4. Perry Ellis, Kansas: Ellis entered Kansas as a freshman with loads of hype surrounding his ability to score the ball, but he didn't quite live up to those expectations, although that had more to do with opportunity than effectiveness: he posted an offensive rating of 114.1. As the starting four for the Jayhawks this year, Ellis will likely be the No. 2 option offensively, along with Wayne Selden. With defenses keying on Wiggins, don't be surprised to see Ellis thrive.
'12-'13: 5.8 ppg, 3.9 rpg
5. Dorian Finney-Smith, Florida: Finney-Smith spent last season sitting out after transferring from Virginia Tech, and after a year of working on his game, the sophomore will have a chance to slide into Florida's lineup immediately. With Will Yeguete banged up and Chris Walker enrolling in December, the versatile forward will have a chance to earn his minutes early in the season.
'11-'12: 6.3 ppg, 7.0 rpg, 1.9 apg
6. Jordan Clarkson, Missouri: It's weird to list someone that averaged 16.5 points as a breakout candidate, but I'd counter with this: How many of you saw Clarkson play at Tulsa? Missouri is ecstatic about how well he's progressed, so don't be surprised to see the 6-foot-5 wing generate all-SEC buzz, put his name on the NBA's radar and become a guy that the nation knows.
'11-'12: 16.5 ppg, 3.9 rpg
7. Mike Tobey, Virginia: This prediction may be a year too early for Tobey, as UVA returns Joe Harris and Akil Mitchell and plays as slow a pace as you'll find nationally. But that shouldn't dissuade you from paying attention to this 6-foot-10 sophomore. He put up impressive, efficiency numbers in limited minutes as a freshman and made the U19 team.
'12-'13: 6.8 ppg, 2.9 rpg, 13.9 mpg
8. Ty Wallace, Cal: Wallace put up solid numbers and was impressive in spurts as a freshman, but his efficiency numbers were fairly low thanks to a season-long shooting slump. But this 6-foot-4 slasher will have the opportunity for more minutes and shots thanks to Allen Crabbe's departure. If he improves from the perimeter, Wallace will have a big season.
'12-'13: 7.2 ppg, 4.4 rpg, 2.6 apg
9. LaQuinton Ross, Ohio State: With Deshaun Thomas gone, someone is going to have to take on the role of go-to scorer for Ohio State, and if last year's stretch run is any indication, Ross should be that guy. He averaged 17.7 points in the last three tournament games. Consistency will be the key to his season.
'12-'13: 8.3 ppg, 2.9 rpg, 16.8 mpg
10. A.J. Hammons, Purdue: Hammons was dominant at times as a freshman, but he also had stretches where he disappeared. Conditioning was an issue for the big fella, and he reportedly lost more than 25 pounds this offseason. If Purdue makes a run at the NCAA tournament, a lot of it will have to do with this potential all-Big Ten sophomore.
'12-'13: 10.6 ppg, 6.0 rpg, 2.0 bpg
Eleven more guys that should be in for a big season
Kris Dunn, Providence (5.7 ppg, 4.8 rpg, 3.2 apg): The best point guard in the Class of 2012 is finally healthy.
Buddy Hield, Oklahoma (7.8 ppg, 4.2 rpg): A lockdown defender, Hield will need to expand his offensive game to offset Oklahoma's heavy losses.
Jerami Grant, Syracuse (3.9 ppg, 3.0 rpg): With James Southerland gone, there will be plenty of minutes for Grant this season.
Kaleb Tarczewski, Arizona (6.6 ppg, 6.1 rpg): Tarczewski needs to take the next step as a physical interior presence for the Wildcats.
Josh Scott, Colorado (10.5 ppg, 5.7 rpg): Scott's 20 pounds of extra muscle should help him in the paint.
Kyle Anderson, UCLA (9.7 ppg, 8.6 rpg, 3.5 apg, 1.8 spg): With Shabazz gone, Anderson will show what he can do with an offense running through him.
Przemek Karnowski, Gonzaga (5.4 ppg, 2.6 rpg): Conditioning is the only thing holding back the seven-foot Mt. Poland.
Willie Cauley-Stein, Kentucky (8.3 ppg, 6.2 rpg, 2.1 bpg): Cauley-Stein is not Kentucky's starting center. He oozes upside, but can he reach his potential?
Josh Smith, Georgetown (5.2 ppg, 4.2 rpg): An in-shape Josh Smith is a lottery pick. It's also something we've never seen.
Tyrone Garland, La Salle (13.1 ppg, 2.0 apg): The SW Philly Floater will be the primary scorer for La Salle with Ramon Galloway gone.
Ben Carter, Oregon (2.4 ppg, 2.3 rpg): There are minutes in Oregon's front court available, and Carter played well in spurts last year.