All month long, CBT will be rolling out our 2013-2014 season preview. Check back throughout the day, as we'll be posting three or four preview items every day.
To browse through the preview posts we've already published, click here. The rest of our Top 25 Countdown can be found here. For a schedule of our previews for the month, click here.
Last Season: 20-15, 11-7 SEC (t-5th); Lost in the First Round of the NIT
Head Coach: Cuonzo Martin (3rd season at Tennessee: 39-28 overall, 21-13 SEC)
Key Losses: Trae Golden, Kenny Hall, Skylar McBee
Newcomers: Antonio Barton, Robert Hubbs III, AJ Davis, Darius Thompson, Rawane N'Diaye
Projected Lineup
– G: Antonio Barton, Sr.
– G: Robert Hubbs, Fr.
– F: Jordan McRae, Sr.
– F: Jeronne Maymon, Sr.
– C: Jarnell Stokes, Jr.
– Bench: Josh Richardson, Jr.; Derek Reese, So.; Armani Moore, So.; Darius Thompson, Fr.; Rawane N'Diaye, Jr.
They'll be good because …: The most surprising news of the offseason down in Knoxville came a few weeks after the season ended, when the Vols announced that Trae Golden would be transferring out of the program. Golden was lined up to be arguably the most important piece for Tennessee, as he was the one point guard on the roster with any experience. With a talented and burly front line (Jarnell Stokes and Jeronne Maymon) being complimented by scorers at both wing spots (Jordan McRae and Robert Hubbs), all the Vols needed was a guy to get people the ball, but Golden was gone.
Enter Antonio Barton. The Baltimore native and former Memphis Tiger made the decision to transfer to Tennessee after it became official that he would be graduating from Memphis in three years. Barton became a forgotten man for Josh Pastner by the summer time, as he had been recruited over and forgotten about heading into his senior season. While transferring meant jumping in bed with a rival, it also means that Barton, who had an excellent freshman season, will be filling a vital role for a top 25 team that needs him to play 30 minutes a night.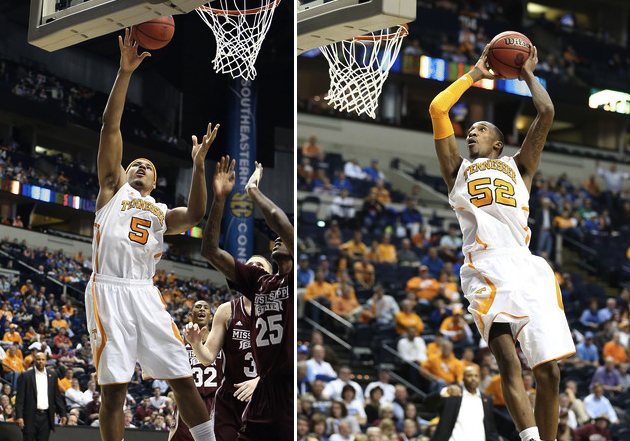 But they might disappoint because …: Tennessee is talented, but this group has as many question marks as any team in our top 25. Four come to mind immediately:
Jeronne Maymon missed all of last season with reoccurring knee problems. Those aren't the kind of things that just go away. Cuonzo Martin needs Maymon to be healthy because …
… there is no depth on this roster. The drop off from the starting five to the rest of the team is drastic. Martin needs to find a way to develop a bench, both in the front court and the back court.
As good as Barton was as a freshman, he's never had to be a primary point guard. At Memphis, he played off the ball more. Is he a creator? Is he a facilitator? One of the issues that Golden had last season was that he was too ball-dominant. This team is too talented for that to happen.
Tennessee needs to be able to shoot the ball from the perimeter to give their bruisers inside space to operate. Robert Hubbs III and Jordan McRae are talented scorers, but can they shoot it well enough to be a consistent threat from the arc?
Outlook: There is a pretty clear cut top three in the SEC, and Tennessee can count themselves in that group. But the Vols are also a ways behind both Kentucky and Florida, and much of that is a result of the question marks listed above. There is no question that there is talent on this roster, enough of it to make another trip to the NIT a massive disappointment. Jordan McRae is good enough to win SEC Player of the Year. Stokes and Maymon make up one of the ten best front courts in the country. The Vols are athletic, they are physical and they are going to grind their opponents down every game.
But just because Martin has pieces at his disposal doesn't necessarily mean that those pieces fit together perfectly. Tennessee won't play pretty basketball, but if they are getting wins, does it matter?