All month long, CBT will be rolling out our 2013-2014 season preview. Check back throughout the day, as we'll be posting three or four preview items every day.
To browse through the preview posts we've already published, click here. The rest of our Top 25 Countdown can be found here. For a schedule of our previews for the month, click here.
Last Season: 29-7, 14-4 Big Ten (1st); Lost in the Sweet 16 to Syracuse
Head Coach: Tom Crean (6th season at Indiana: 84-82, 33-57 Big Ten)
Key Losses: Cody Zeller, Victor Oladipo, Christian Watford, Jordy Hulls, Remy Abell, Mo Creek
Newcomers: Noah Vonleh, Troy Williams, Stanford Robinson, Luke Fischer, Evan Gordon, Devin Davis, Colin Hartman
Projected Lineup
– G: Yogi Ferrell, So.
– G: Will Sheehey, Sr.
– F: Jeremy Holloway, So.
– F: Noah Vonleh, Fr.
– C: Luke Fischer, Fr.
– Bench: Evan Gordon, Sr.; Stanford Robinson, Fr.; Troy Williams, Fr.; Hanner Mosquera-Perea, So.; Austin Etherington, So.
They'll be good because …: Indiana certainly has enough talent on their roster, as Tom Crean once again brought in a recruiting class that ranked as one of the best in the country. What that means is that the Hoosiers can go 10 deep before you even consider the likes of Peter Jurkin, Devin Davis and Collin Hartman. Noah Vonleh is a top ten recruit with a chance to be a lottery pick whenever he leaves school, Yogi Ferrell should have a big season as he'll be expected to shoulder more of the offensive load and Will Sheehey is one of the more underrated wings in the country.
Jeremy Hollowell, Luke Fischer, Troy Williams, Stan Robinson and Hanner Mosquera-Perea are all kids that, with time, should develop into big-time contributors for the Hoosiers. Without question, Indiana has the pieces to remain a contender in the Big Ten.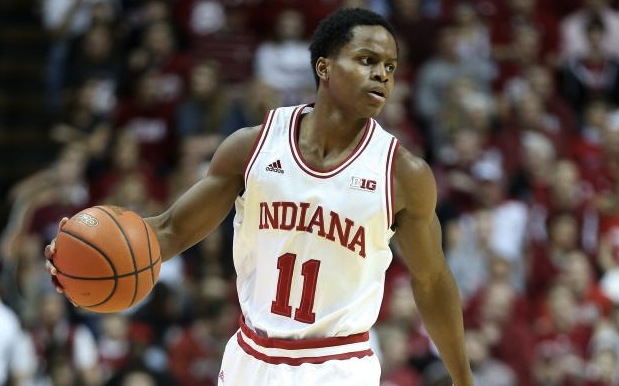 But they might disappoint because …: The most important two words in the entire paragraph above are "with time". The Hoosiers will be one of the youngest, most inexperienced teams in the country next season, especially up front. Ferrell is a sophomore and started at the point last season, which makes him an old man in college basketball these days, and the senior duo of Sheehey and Arizona State transfer Evan Gordon should give Tom Crean some veteran leadership in the back court.
Up front is a different story. Vonleh, Fischer and Williams are freshmen. Mosquera-Perea and Hollowell are sophomores that saw limited minutes last year. That group is loaded with talent and potential, but just how effective they end up being in their first season playing (or playing big minutes) at the college level is yet to be seen.
Outlook: Indiana has a ton of moving parts this season, and just how the starting lineup and rotation shakes out is yet to be determined. At this point, there are a couple assumptions we can make: Ferrell will have the ball in his hands the majority of the time as he's the only point guard on the roster, Vonleh is as close to a sure thing as freshmen get, and Sheehey will play major minutes in the role vacated by Victor Oladipo.
Beyond that, however, there is a lot unknown. Indiana isn't looking simply to replace a couple pieces from last year. They don't simply need to fill a couple roles. This is an entirely new team. Their top four scorers — Oladipo, Cody Zeller, Christian Watford and Jordy Hulls — from last season are gone, and how the pieces that Crean has amassed will fit together is one of the most intriguing story lines in the Big Ten this season. Can Robinson take over the shooting guard role by the end of the year? Does the uber-athletic Williams have enough skill to be a factor in the Big Ten in his first season? Is Fischer strong enough to take over for Cody Zeller in the paint? Did Hollowell put in the work this offseason to build off of a strong finish to his freshman season?
One thing I'm sure of: Indiana is going to look different on March 8th than they do on November 8th. Will that be a good thing or a bad thing for Hoosier fans?