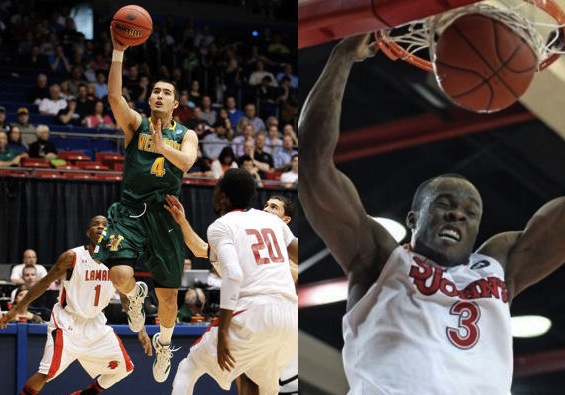 All month long, CBT will be rolling out our 2013-2014 season preview. Check back throughout the day, as we'll be posting three or four preview items every day.
To browse through the preview posts we've already published, click here. For a schedule of our previews for the month, click here.
We're doing things a little differently this year. Instead of semi-arbitrarily organizing players into artificial five man teams based on the quality and musicality of their names, we're going to semi-arbitrarily arrange athletes into a power ranking structure, honoring only the top twenty-five player names, with definitive explanations of why each name is so awesome.
First, I'll tell you what does NOT qualify someone for All Name status. Simply being from another country and having a representative regional name is not enough. Mildly uncommon first names are actually becoming rather standard in the sports world, so your everyday Dundrecous isn't going to catch my eye. Names that might be funny if pronounced a certain way don't make the grade on those merits alone, though I did bend that rule a bit.
So who did make the grade, and why? Only one way to find out. Read on, my friend.
1. God'sgift Achiuwa, St. John's – It's only fitting that the top spot go to a name that will go down as an all-time great one. God'sgift is the only player I've ever seen who's sporting an apostrophe that signifies possession rather than a quick glottal stop. In addition, his first name is two words smushed into one, and it glides rather naturally into Achiuwa. His given name is impossible to shortcut; you say the whole thing, or you sound blasphemous. This is a Hall of Fame name.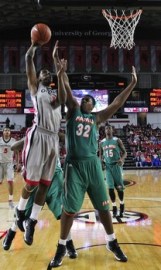 2. McWisdom Badejo, Florida A&M – Would this name have ranked this high if I hadn't seen Superbad? Probably not. But the image of Bill Hader in a cop uniform shouting "McWisdom, Why?!?" when Badejo commits a turnover or gorks a dunk attempt will not leave my head. In addition, this puts the A&M Rattler center in the somewhat questionable realm of McMansions and McNuggets, indicative of a mass-produced, pre-packaged imitation of real wisdom.
3. Indiana Faithfull, Wofford – First name is one of the 50 United States, check. Last name meaning loyal, constant and steadfast, check. Didn't go to Indiana, double check. The capper is that he's from Australia, so he's more than likely named after Indiana Jones, and not the state.
4. Four McGlynn, Towson – I firmly believe that Moses Malone gave the McGlynn family the inspiration for the Vermont transfer's first name when he said "Fo', fo', fo" in 1983. Prove me wrong.
5. Dakota Slaughter, Alabama – First name is one (technically, two) of the 50 United States. Last name meaning to kill in a violent or brutal  manner. Almost as good as Indiana Faithfull, but points off for being a bit terrifying. (Note: when I first published this list, I had the wrong page linked, showing Dakota as a walk-on with no photo or info. 'Bama emailed me with the proper link and politely requested I change it. When Dakota Slaughter corrects you, believe me, you hop to.)
6. Sir'Dominic Pointer, St. John's – Sir is not being used as a title here, but it sounds like it when you say it out loud. The random apostrophe is a piquant addition. And Pointer gives St. John's two players in the top ten. Too bad great names don't win championships all by themselves.
7. Staats Battle, NC State – If the 6-foot-6 guard is truly in a battle to accumulate staats, er, stats, he's losing. He's scored 11 points in two seasons as a member of the Wolfpack. He got in trouble last season, and was reportedly kicked off the team, but the school has listed him as a junior on this year's roster, so he stays.
8. Biggie Minnis, Rhode Island – His real name is DeShon, but Rhody isn't keen on that fact. They list him as Biggie on the official website. Throw in the fact that he's a 185 lb. guard instead of a 300 lb. rapper/center and the picture is complete.
9. Hippolyte Tsafack, Memphis – I really don't have a joke for this one. It's simply majestic, and I love saying it.
10. Wanaah Bail, UCLA – He did want to bail on Texas Tech after Billy Gillispie kicked off the abusive coaching trend, so he did. A knee injury will cause him to miss some of this season, but we'll enjoy him as soon as he gets into the rotation for Steve Alford in Westwood.
11. Claybrin McMath, Bryant – Sounds like a character on Adventure Time. His McMath wasn't too impressive last season, only adding up to 23 points in 26 appearances.
12. Leek Leek, Campbell – The best of a handful of redundant names this season. Brings to mind an escape of fluid from a supposedly sealed container, even though it's spelled like a double helping of a mild onion-like veggie.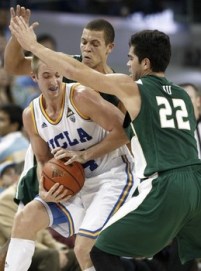 13. Drake U'u, Cal Poly – This guy has been a favorite for years. Plenty of people have random apostrophes in their names, plenty of guys have names with too many vowels or not enough. But the combination of all that in one gloriously short surname is worth celebrating.
14. Jordair Jett, St. Louis – It's tough to live up to a name that combines parts of Michael Jordan, His Airness, and the speedy imagery of a jet. Jordair might not be quite that good, but he does pretty well for himself on a quality team. Bonus points for the dreads and the Lionel Richie moustache.
15. Sanjay Lumpkin, Northwestern – The lovechild of Sanjay Nahasapeemapetilon and Lurleen Lumpkin? Simpsons fans can only dream it's true.
16. Daveon Balls, Northern Illinois – You know why this is funny. Don't make me be crude. If someone has a photo of the back of his jersey, I'll love you forever.
17. Basil Smotherman, Purdue – If he doesn't drink tea, play cricket and bow to the Queen he'll have some explaining to do.
18. Jaron Blossomgame, Clemson – His last name seems so hopeful. Like he's growing his game into something beautiful under Brad Brownell's tutelage. That's the hope, after he spent his first season in school redshirting due to injury.
19. Grandy Glaze, St. Louis – If you can't order this as a specialty drink at a Starbucks near Chaifetz Arena, there's something wrong with this world.
20. Jeremy Bogus, Jacksonville – I hope the Dolphins sell his official jersey in the team store, and crack down on any bogus, er counterfeit replicas.
21. Dallas Ennema, Albany – If ever a city needed a good, therapeutic colon cleansing, it's Dallas.
22. Ria'n Holland, Wichita State – I thought I'd seen every possible odd place to put an apostrophe. I was wrong. The Shockers always find a way.
23. Armani Cotton, Yale – Armani by itself is a great name, but paired with cotton, it's just too perfect. Plus, he's Ivy League.
24. Chad Posthumus, Morehead State – Not spelled quite right, but the impact is undeniable. Let's recognize him prehumously.
25. Ya Ya Anderson, Radford – Getcha, getcha Ya Ya's out.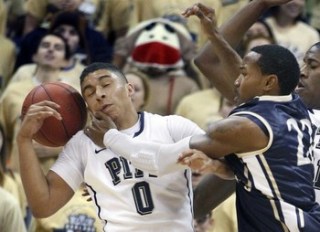 Honorable Mention: Rashad Whack, Mt. St. Mary's; Chris Manhertz, Canisius; Christian Standhardinger, Hawaii; Yilret Yiljep, American; Alex Biggerstaff, UNC-Asheville; Raven Barber, Mt. St. Mary's; Canyon Barry, Charleston; Stetson Billings, Arkansas-Little Rock; Gee McGhee, Chattanooga; Onochie Ochie, Southeastern Louisiana; Dusty Hannahs, Texas Tech; Willis Turnipseed, Morgan State
And, not for nothing, two parents of the same generation came up with the same tortured spelling of a fairly common name without, one assumes, conferring first, giving us Xzaivier James of Northern Colorado and Xzaivier Taylor of Bradley. Good show.
In closing, I'd like to pay tribute to the godfather of all run-on basketball names, Dikembe Mutombo. Thanks to comedian @Adam_Newman for specially editing this clip of his performance on Letterman for CBT:
[youtube=http://www.youtube.com/watch?v=HIscjrYjC7I&w=560&h=315]