Hofstra hasn't made much noise on the court since Charles Jenkins graduated in 2011. With former Niagara head man Joe Mihalich hoping to kick off a new era for the frequent CAA also-rans, something has to change, and fast. The Pride are starting with their uniforms.
From the front, the new Nike uniforms don't look too terribly different from the old Hofstra image, but I do like the piping down the side of the shorts, which resembles a tie my father would have worn in the 1970s.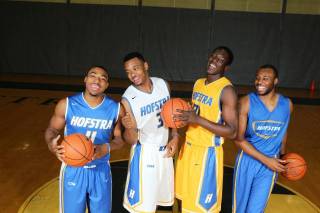 Modeling credits from the Hofstra press release:
As part of the unveiling of the uniforms, four men's basketball student-athletes showcased the jerseys in a photo gallery. Donning the exciting new gold uniform is junior forward Moussa Kone, while graduate guard Zeke Upshaw is in white, graduate guard Dion Nesmith is in blue and junior guard Juan'ya Green is pictured in the reversible blue and gold practice gear.
As you can tell from the recurrence of the word "graduate" in that snippet, Mihalich will start his tenure at Hofstra with some decent experience to draw on. With just four holdovers from the Mo Cassara era, the Pride have brought in a number of transfers from other programs to fill out a roster that achieved very little last year, finishing 7-25.
If that recipe sounds familiar, it should. Transfers helped another CAA team – the Towson Tigers – engineer the best one-year turnaround in college basketball history last season. Can Hofstra pull off a similar feat?
For the sake of long-suffering Defiantly Dutch, I can only hope so.