DePaul's new basketball arena in the city of Chicago appears to have a design going forward, according to a report
Saturday morning from the Chicago Tribune
.
The Tribune released seven photos of artist rendered designs from the architecture firm of Pelli Clarke Pelli and the new design is expected to be recommended on Monday to the Metropolitan Pier and Exposition Authority.
More from the Tribune:
An arena adjacent to McCormick Place planned to host DePaul basketball as well as convention assemblies is a step closer to reality. A design by Pelli Clarke Pelli Architects of New Haven, Conn., is expected to be recommended to the board of the Metropolitan Pier and Exposition Authority on Monday.

To ease neighbors' fears of an unsightly, concrete hulk, the design is low to the ground and bathed in glass. The $173 million, 10,000-seat arena is projected to open in 2016, Tribune reporter Kathy Bergen writes.
The new arena in the South Loop of Chicago would give DePaul basketball a much needed change of scenery after calling the Allstate Arena in suburban Rosemont, Illinois home since 1980.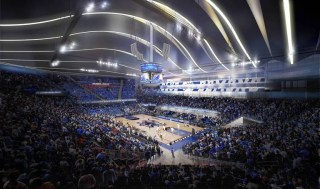 The undesirable location and older facilities of the Allstate Arena are in dire need of an upgrade as DePaul moves forward and the unique design of their own basketball arena located in the city of Chicago could give the program a shot in the arm with local fans and the hotbed of high school basketball talent in the Chicagoland area.