The Brayden Carr Foundation coaches clinic is a special event for many connected to the game of basketball. The event, which was held for the third time on Friday at Fairleigh Dickinson University in Teaneck, N.J., attracts some of the game's best minds with coaches speaking for a fee but rather for a good cause. All of the attendance fees collected go towards helping children dealing with epileptic seizures and their families, with money going towards medical costs and education.
Rhode Island assistant coach Jim Carr and his wife Natalie established the foundation in the aftermath of their 2 1/2 year-old son Brayden passing away after dealing with frequent seizures, with Carr a member of the Rutgers basketball staff at the time. Three-plus years later the clinic's become a must-attend affair, both for the coaches looking to receive valuable tips and the established minds asked to impart some of their wisdom on the attendees.
One of those coaches on Friday was Marquette's Buzz Williams, whose own "Buzz's Bunch" program (which benefits special needs children) has been a staple of his program since Williams was named head coach back in 2008. And during his teaching session Coach Williams wore a shirt that honored the memory of Brayden Carr.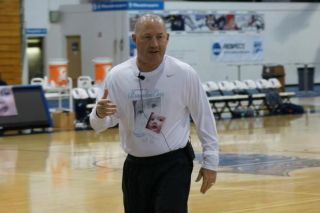 According to Brendan Prunty of the Newark Star-Ledger the clinic raised more than $100,000 for the foundation, and donations can be made at the foundation's website. With the third event in the books, the Carr's have a particular coach in mind when it comes to who they'd like to have speak in the future.
So far in three years, there have been 18 speakers. Hall of famers, NBA champions, NCAA champions. Most would take that as a pretty good start. Not the Carr's. They've got one speaker on their wish list to get to the clinic at some point: Pat Riley.

"Nat keeps saying it's her goal to get Riley here," Carr said. "Why not? Aim high."
Hopefully they're able to make that happen.