The NCAA has finally released the bracket for the Preseason NIT, the last remaining early season tournament that is truly a 16 team tournament. Where as most events guarantee the pod host — one of the four high-profile teams in the event — a spot in the semifinals, the programs partaking in the NIT have to earn their way to Madison Square Garden.
First and foremost, here is the bracket: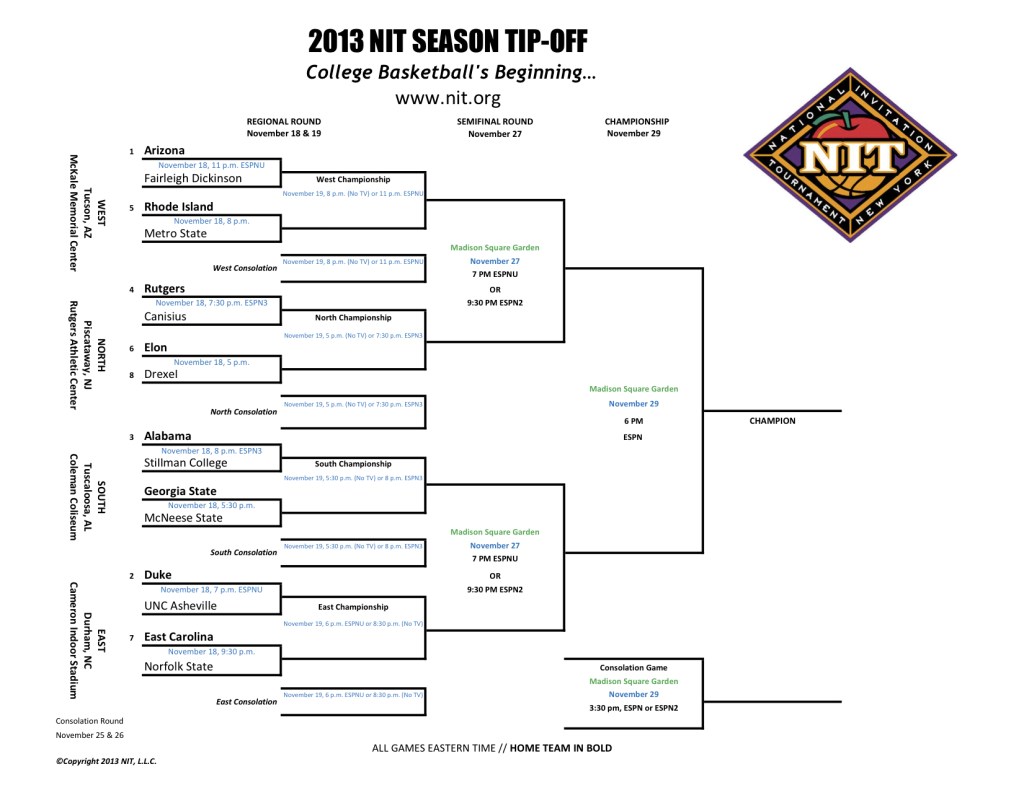 The matchup that everyone will be rooting for is a final between Duke and Arizona on the Friday after Thanksgiving, a game that would pit two teams that could sneak into the preseason top five.
It's no guarantee, however. Arizona will be locking horns with a Rhode Island team that should be much improved this season and is dangerous enough that they could spring an early-season upset of the Wildcats, especially if it takes some time for Aaron Gordon to adjust to the college level.
Duke should be able to make their way out of their pod, where they will likely faceoff with Alabama in the semifinals. The Crimson Tide lost some talent this offseason, with Trevor Lacey and Devonta Pollard no longer a part of the program, but with Trever Releford leading a veteran back court, Anthony Grant's club shouldn't be a pushover.
But they may also get knocked off before they can even reach MSG, as Georgia State is a team to keep an eye on this season in the Sun Belt. RJ Hunter averaged 17.5 points as a freshman, and in addition to returning their two other double-figure scorers, the Panthers will also add Ryan Harrow to their mix. He's eligible immediately. 
Rutgers wasn't given any favors by the NCAA in their bracket. The Scarlet Knights are going to have a tough season in their first year post-Mike Rice, and they get a good Canisius team, a talented Drexel team and Elon, who should contend for the SoCon title.