Cliff Alexander, the #2 rated recruit in ESPN's Top 100 rankings for the class of 2014, tweeted out earlier this afternoon that he plans to play his college basketball with JaQuan Lyle, the #22 recruit, according to ESPN.
These "package deals" seem to be all the rage this offseason, along with schools unveiling courts with crazy designs, of course.
Prior to even delving into what this would mean for a school to land both of these recruits, one must bear this in mind: Cliff Alexander, along with every other recruit in the class of 2014, is a teenager who has a Twitter account with thousands of followers. It is very easy to spend just a few seconds tweeting out a message to the world, without completely understand the weight it has behind it.
That being said, if Alexander and Lyle were to attend the same college, that is a potential program-changing duo of recruits. Below are Alexander's tweets: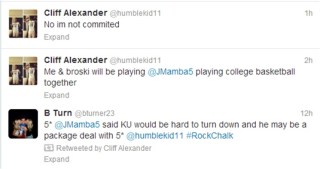 @JMamba5 is Jaquan Lyle's twitter handle, while @humblekid11 is Cliff Alexander.
Over the weekend, Alexander was on an official visit to Arizona, while Lyle announced he was decommitting from Louisville.
As you'll see per the first tweet, Kansas seems to be at the forefront of Lyle's mind. Does that mean the same for Alexander? Alexander is slated to visit Kansas on October 4th.