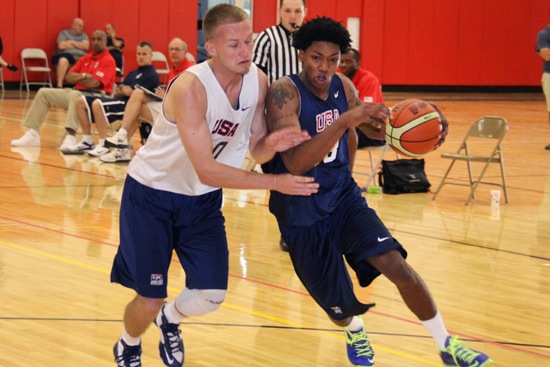 Elfrid Payton had a really, really good sophomore season, one that saw him average 15.9 points, 5.6 boards, 5.5 assists and 2.4 steals while playing more than 35 minutes a night.
Those are massive numbers, regardless of what level of basketball you play.
The problem, however, was that Payton played for Louisiana, a team that finished last season buried in eighth place in the Sun Belt with a forgettable 13-20 record. Payton was a first team all-Sun Belt selection and the guy that every coach game-planned around if they had UL on their schedule, but his notoriety didn't make it much further than a scouting report for Arkansas State or South Alabama.
Such is life at the mid-major level, which is precisely why his head coach, Bob Marlin, spent all spring trying to get Payton into Chris Paul's point guard camp. An invitation-only event stocked with some of the best high school and collegiate point guards from across the country, it would be the perfect place for a 6-foot-3 combo-guard to A) learn from some of the best skills instructors, including CP3 himself, and B) get some exposure, to be more than just a name known in Florida Atlantic's locker room.
"We fought it pretty hard for about a month," Marlin told NBCSports.com, but eventually, word came back that Payton would not be getting that invitation. "It was disappointing."
And it ended up being the best thing that ever happened to him.
—————————————————————————————————-
Elfrid Payton is an opportunist.
Give him an inch, and he's taking a yard. Let him get a foot in the door, and he's busting through like Adrian Peterson catching a glimpse of the goal line.
As a 16 year old high school senior, Payton was 6-foot-1 and 160 pounds, stuck playing second fiddle on a good John Ehret (LA) HS team that featured the more highly-regarded O.C. Tart. Payton was a Division I prospect, but he was the guy whose high school coach had to make calls on his behalf. That changed midway through the season, as Payton was given the reins to the team when Tart got himself suspended.
With a chance to show what he was capable of, Payton led Ehret to Louisiana's state tournament semifinals, which just so happened to be played at UL's Cajundome. At that point, Marlin had been recruiting Payton for about a month, Tulsa and New Mexico State were poking around, and Texas A&M had inquired about Payton attending prep school. A couple of weeks later, after visiting Payton at his high school, Marlin hosted Payton and his family on campus for an unofficial visit. Payton committed that day. "We just thought UL was the right place," he told NBCSports.com. "It was close to home, my parents could come see my games, it was the right fit, and I could come in immediately and play, which was the biggest thing."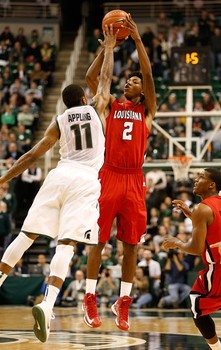 After a promising freshman season, Payton exploded as a sophomore, bolstered by a late growth spurt and an extra 20 pounds of muscle. It wasn't enough to earn an invite to the Chris Paul camp, but Payton caught another break.
Sports Reach is a ministry that travels the world using athletics as a platform to share the Gospel. Based in Louisville, KY, it would only make sense that one of their main efforts involved basketball, and they've had some pretty prominent alumni. Jordy Hulls traveled with them in the summer of 2011. Peyton Siva, Victor Oladipo and Aaron White were on the team in 2012. This summer, Sports Reach had a point guard drop out of their two week trip to China, and when Marlin got word, he and Payton decided that it was probably his best chance at making a name for himself.
It wasn't.
Unless you knew someone on that trip, you didn't know about that trip.
But it forced Payton to get a passport, and that may have changed the course of his basketball career.
While Payton was on the trip, Marlin had a realization: Payton's young for his age, as he turned 19 years old this February. That would make him eligible for the USA's U-19 team, which is typically made up of high school seniors and college freshmen. Payton was due home in a couple of days, and the U-19 trials were due to start in about two weeks, but Marlin figured it was worth a shot to give the U-19 head coach, his old friend Billy Donovan, a call to make a pitch for Payton to get an invite to training camp.
"I know the trials have been set and it's the last minute and I apologize, but I've got a young man that I think can help the team and bring some more experience to the group," Marlin told Donovan. He referenced the 20 points and seven steals Payton had against Michigan State and the 17.5 points, 8.5 assists and 7.0 boards he had in two games against Richard Pitino's FIU team. He told Donovan to ask around about this kid.
Donovan, Marlin said, told him that wasn't necessary. He trusted his old friend's opinion, and that a spot had opened up because Tyus Jones dropped out of the trials. Marlin would have to save the hard-sell for Sean Ford of USA Basketball, however. It was his decision to make.
When Marlin finally heard from Ford, the Men's National Team Director, Ford only had two questions:
"Is Elfrid 19 years old?"
Yes. He turned 19 in February.
"Does he have a passport?"
Well, he does now.
From there, the story tells itself.
Payton was sensational during the training camp, beating out the likes of Ryan Arcidiacono, Kris Dunn, Damyeon Dotson, Javan Felix and Rodney Purvis for a spot on the 12 man roster. He then beat out Nigel Williams-Goss, James Robinson, Michael Frazier and Justise Winslow for a spot in Team USA's starting lineup, where he was featured alongside future lottery picks Marcus Smart and Rasheed Sulaimon.
"I thought if given the opportunity to show it, I can play with those guys," Payton said. "Once I got the chance I was able to seize the opportunity."
Payton earning a spot on the team turned him into a major story in the college hoops world in the slow month of June; Ragin' Cajun point guards don't often don the red, white and blue. But it was his on the court that really got people talking. Payton is as athletic slasher that is a nightmare to keep out of the paint and a misery to try to handle the ball against. He's still learning some of the intricacies of being a point guard — how to run a team, how to read the pick-and-roll, when to pick his spots — but the talent and the effort level is there.
[youtube=http://www.youtube.com/watch?v=3T0pWY2Vq6Y]
While Payton was putting up nine points, six assists and five steals in the U-19 final against Serbia, Marlin was fielding calls from NBA front office types asking how the heck this kid ended up at UL. Given the success of mid-major combo-guards in recent years — Stephen Curry, Damian Lillard, CJ McCollum — it shouldn't come as a surprise that the NBA has started inquiring.
All Payton needed was the exposure.
And if he had gotten that invite from the Chris Paul camp in the spring, he wouldn't have been on that trip to China. If he didn't take that trip to China, he wouldn't have had a passport when USA Basketball extended him an invite.
"Opportunities don't come around a lot," Payton said. "So when they do, it's important that you make the most of them."
—————————————————————————————————-
Marlin got the news while Payton was in Prague representing his country.
"We get the call, finally, and they ask him to come to Chris Paul camp," Marlin said. "I told the guy, we waited and we waited and we didn't hear anything back. I said, 'we tried', and he said, 'well, he's in now.'"
It wasn't quite that simple, though. The Chris Paul camp happened to coincide with UL's trip to Spain this August. Payton would have a decision to make: go on an exhibition tour with his team, or spend three days in Winston-Salem at the camp he had worked so hard to get into five months ago.
He declined the invitation.
"Chris Paul isn't going anywhere," Payton said. "I felt like I needed to spend some time with my teammates and get better with my team. The most important goal is to win a conference championship and to make a run in March, and I just wanted to be with my team at that time."
"Little things and reasons that went into the decision that I didn't get in [initially] did kind of put a chip on my shoulder, but everything happens for a reason. It was alright. I was able to experience the U-19. The whole thing about the Chris Paul camp was getting exposure, and the U-19s did that for me."