SPRINGFIELD, Mass. — Rick Pitino sat at his table, championship ring on his finger, wearing a white polo with the Louisville Cardinals logo on the left side of his chest — new tattoo on the back of his left shoulder — and the most recent addition to his weekend wardrobe, a Hall of Fame blazer.
Pitino, one of 12 people enshrined in the Naismith Memorial Basketball Hall of Fame this weekend in Springfield, Mass., was the focal point of the room. To his left was Bernard King, the New York Knicks great that Pitino coached as part of Hubie Brown's staff in the '80s. Even though King had his own crowd of reporters sitting across from him, he didn't acknowledge them for the first several minutes. He had his head turned towards Pitino, looking like a spectator. Pitino was completely aware he had King's attention, and didn't hesitate to compliment the pure scorer.
"He earned his way into the Hall of Fame, my players got me into the Hall of Fame," Pitino told reporters.
Pitino was the first coach to take three different programs to the Final Four, he has won two national titles and amassed more than 650 career wins, despite spending six years, in two separate stints in the NBA. His place in the Hall of Fame is well deserved, but it's the timing  that makes this experience all the more unique.
It all started on Valentine's Day. The Cardinals coming off a five-overtime loss to Notre Dame in South Bend, defeated St. John's 72-58, starting a 16-game winning streak that ended with the national championship. That Final Four weekend, Pitino got word he'd be a member of the Hall of Fame's Class of 2013. A day before Louisville's Final Four matchup with Wichita State, Pitino's son Richard was introduced as Minnesota's new head coach.
His hot streak wasn't limited to the hardwood either. He had a horse run in the Kentucky Derby, he caught an 80-pound marlin and was featured on commemorative Maker's Mark bottles … and that all happened during a one-week span in May.
Months of accomplishments have blended together, and it has reached its pinnacle this weekend in Western Massachusetts.
"I think that's what makes it such a special, special thing," Pitino said. "You're on such a high with the championship, then you're on another here, so it segues into it like nothing I'll ever forget. It's an incredible, incredible feeling, for all of this to happen in a short amount of time."
Following his speech at Springfield's Symphony Hall on Sunday, it's time to switch gears. He's still an active coach after all.
"I think that for these three days, you basically, cherish the past by remembering it," Pitino said. "But I think when this ends, you immediately get ready, and you start thinking about recruiting, and it moves forward."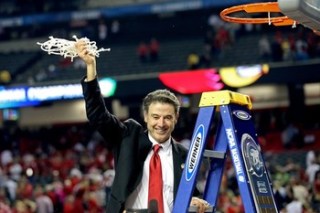 There have been other coaches before Pitino that have continued their careers as members of the Hall of Fame, yet Pitino hasn't sought any advice for what he should expect coaching with his new title. However, Pitino insists, he intends to coach as a Hall of Famer for a while.
"I think where most coaches realize it's their time is when they just get tired of recruiting," he said. "That's what people tell me. They get tired. The good thing is I'm nowhere near tired, as a matter of fact I'm even more passionate about recruiting right now than I've ever been because you have a brand that's very easy to sell."
And he clearly means it. As Pitino, 60, was preparing for the Hall of Fame weekend, he landed a commitment from four-star power forward Jaylen Johnson on Friday morning.
Louisville is a historic program. Couple that with winning the NCAA tournament, and it's not hard to catch the eye of blue-chip prospects. Pitino compared recruiting after winning a championship to selling Louis Vuitton hand bags or Gucci shoes. He has a popular product that people like — depending on where you live in the state of Kentucky.
And that product displayed different styles of itself throughout the season. Louisville were known for its intense defense throughout the year, though in the national final, the Cards were in a first-half shootout against Michigan.
"The amazing thing about it," Pitino said. "We went the entire season with the best defense in the country, and we ended up winning the NCAA tournament with the best offense."
Pitino's team gained positive attention for how they handled and bounced back from Kevin Ware's gruesome leg injury during the Elite Eight against Duke. It showed the team's chemistry — which was there all along — but it was brought to the forefront by the live video and then the  hours of tweets and posts that followed.
"Chemistry doesn't happen by a young man getting hurt," Pitino insisted.
That chemistry was part of what made this past season such a memorable one. He has a core of those players returning, who share that bond, but Pitino mentioned that he'll never another player like Peyton Siva — just like he'll probably never have one as entertaining as returning guard Russ Smith, who consistently wakes Pitino up at 1:30 in the morning with text messages that read simply, "What's up, coach?" He'll almost certainly will never get a pair of threes in the Final Four from a player like Tim Henderson, who averaged less than four minutes a game. And the list goes on, and on. But with the returnees and impressive recruiting classes coming in, Pitino has more to look forward to, rather than reminisce on his accomplishments that will forever be stored in Springfield.
Though success might eventually be too much of a good thing for Pitino.
"We've been to back-to-back Final Fours. If we go to one more, the way my friends at Louisville celebrate, I will be dead," Pitino joked.
The march to another Final Four begins after Pitino's speech on Sunday afternoon. It's fitting that he concludes the 2013 Hall of Fame enshrinement ceremony. It's puts an end to a stream of achievements he's seen in recent months, as the Hall of Fame coach gets set for another season on the sidelines at Louisville looking to add more accolades to his Hall of Fame resume.