[youtube=http://www.youtube.com/watch?v=Q2dzCo7n2Qk&w=640&h=360]
One of the nation's top defensive players is one step closer to make a college choice.
On Tuesday, Wilbraham & Monson Academy (Mass.) center Goodluck Okonoboh narrowed his list of offers to (in no order) Duke, Florida, Indiana, Ohio State and UNLV. ESPN's Adam FInkelstein first reported the news, followed by Okonoboh, who confirmed the list.
"These coaches were all visible this summer, as were several others," Vin Pastore, Okonoboh's Mass Rivals AAU coach told NBC Sports in a phone interview on Tuesday afternoon. "But I guess these were the ones he felt the most connected to.
"It was time. He's gonna start planning his visits. I think [it will] be sometime in the near future."
Okonoboh has taken a big step in the college process, which led Pastore to believe that his commitment could happen during the early signing period.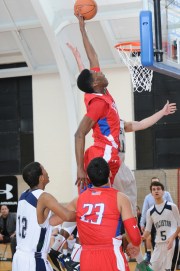 For years, Okonoboh starred on the Tilton School (N.H.) and BABC frontlines along with his good friend and current Philadelphia 76er Nerlens Noel. Those BABC clubs were also made up of Kansas signee Wayne Selden and Iowa State rising sophomore Georges Niang. This season, after transferring to WMA and playing with the Mass Rivals for the second summer, Okonoboh established himself as a top 35 player according to Rivals, and is arguably the best shot blocker in the Class of 2014.
Looking at Okonoboh's top five, one school stands out: Indiana. Last fall, Tom Crean got a commitment from another Mass Rivals product, Noah Vonleh.
"He's friends with Noah, and Noah's at Indiana, so we'll leave it at that," Pastore said.
Before Bloomington, Ind. prepares to be amazed by Goodluck's highlight reel blocked shots, like this one, Pastore was quick to point out that based on recent recruitment developments, friendships might not sway Okonoboh.
"It certainly doesn't hurt Indiana's chances," Pastore said. "But then again Syracuse didn't make his list and they just got a commitment from Kaleb Joseph, and him and Goodluck were roommates this summer."
Friendship, nor distance, seems to make an impact on the Boston native, who's final five schools range in four different conferences, the closest one being a minimum of 700 miles away.
Okonoboh is ranked as the No. 32 player in the Class of 2014 by Rivals, and will be in action this Saturday as part of the 2013 Elite 24 in Brooklyn.