ESPN (slowly) released the schedule for their now-annual College Hoops Tip-Off Marathon on Monday afternoon, and — quite frankly — the first 12 hours or so weren't exactly worth the wait.
But the last four hours?
Look out.
After a full 24 hours worth of basketball — the marathon technically starts at 7 p.m. the night before — we get the season's first installment of College Gameday, as the ESPN crew heads to the United Center for one could end up being the best double-header of hoops we get all season long.
It starts with a 7:30 p.m. (all times Eastern) tip with Michigan State taking on Kentucky, who just may be the two best teams in the country heading into the 2013-2014 season. Kentucky brings in their all-world recruiting class that could end up sending seven players into the first round of the 2014 NBA Draft. Michigan State brought back both Gary Harris and Adreian Payne, both of whom are potential lottery picks, putting the Spartans right back into the national title conversation.
Coach Cal's talent vs. Tom Izzo's game-planning. Yes, please.
And it may not even be the most memorable game of the night, as the nightcap of the Marathon pits Kansas against Duke. The Jayhawks were thought to be an afterthought heading into the year, as their lineup is as young on paper as anyone in the country. That all changed when Kansas got, ironically enough, younger with Andrew Wiggins' commitment. That single talent rocketed them up preseason top 25's, and created all kinds of intrigue as the Jayhawks get set to take on Coach K's Blue Devils.
Duke will have plenty of talent, with Rodney Hood eligible and Rasheed Sulaimon back, but the headlining matchup will likely end up being Jabari Parker, who was labeled the best prospect since LeBron by Sports Illustrated, against Wiggins.
Bill Self and Wiggins vs. Coach K and Parker? This could be epic.
That's not all, however, as ESPN will also be airing two more intriguing matchups. At 7 p.m., VCU will be taking on Virginia in one of the biggest contrasts in styles we will see this season. VCU runs 'Havoc', a full-court pressing system designed around steals, layups and threes. Virginia, on the other hand, wants to play as slowly as possible, packing in their defense and running 30 seconds off the clock every possession. To make things more intriguing, Shaka Smart and Tony Bennett coached together on the U19 team this summer.
When that game ends, Florida will be taking on Wisconsin, a tip that is scheduled for 9 p.m. The Gators are going to be a contender for the SEC title regardless of whether Chris Walker gets eligible, but Wisconsin should be pretty good next season as well. Expect a big year out of Sam Dekker.
That's how the Marathon ends.
It starts the night before, with a 7 p.m. game between one of the stronger program's in the MAC, Kent State, taking on a Temple team that will be in rebuilding mode in their first season in the AAC. That is followed up by a depleted Colorado State team squaring off with Gonzaga, who likely cost themselves at least five years of preseason hype by flaming out in the Round of 32 after earning a No. 1 seed last March.
The marathon officially starts at 11 p.m., with BYU heading down to Palo Alto to take on Stanford. The Cougars have one of the best scorers in the country in Tyler Haws, who averaged more than 20 points last season despite missing two years on his Mormon mission, while Stanford's talent seems to have finally matured enough to make a run at an NCAA tournament berth.
That game will be followed by Western Kentucky visiting Wichita State, a 1 a.m. tip — midnight local time — between a loaded Shocker team coming off of a Final Four run and a Hilltopper team that has twice captured lightening in a bottle, winning the Sun Belt automatic bid the past two seasons. There is some intrigue there, although I fully expect Gregg Marshall's team to walk all over WKU.
And then things get a bit methodical. It's tough to find teams willing to play at all hours of the night, you know?
Akron visits Marathon stalwart St. Mary's at 3 a.m., a game that would have been much more enticing before Matthew Dellavedova and Zeke Marshall graduated. New Mexico State visits Hawaii at 5 a.m., which may only be watchable for a repeat of this overpowering drop-step from 7-foot-5 Sim Bhullar: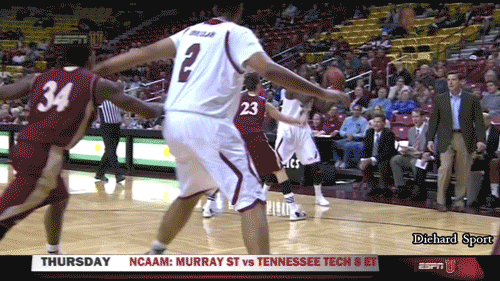 The 7 a.m. tip will feature Hartford visiting Andy Enfield-less Florida-Gulf Coast, entertaining only if #DunkCity gets their coffee. That's followed by another NCAA tournament darling, La Salle, hosting Quinnipiac at 9 a.m.
LSU-UMass at 11 a.m. has a chance to be a game with major bubble implications, and the Minutemen have one of the most entertaining guards in the country to watch in Chaz Williams. The 1 p.m. tip doesn't have quite as much going for it, as West Virginia — who finished below .500 last year and lost what seems like half their roster to transfer — takes on a Virginia Tech team that was a (bad) one-man show a year ago and lost that one-man, Erick Green.
South Carolina at Baylor at 3 p.m. could be interesting if Frank Martin's talented recruiting class can have an immediate impact, but the talent infusion seems like more of a long-term play. Isaiah Austin and Cory Jefferson should be too much to handle.
At 5 p.m., NC State will visit Cincinnati in a relatively forgettable matchup between two teams that will be in a bit of a rebuilding mode. The Bearcats will rely quite heavily on Sean Kilpatrick this season as they try to make the tournament out of the AAC, while NC State is coming off a massively disappointing 2012-2013 season in which they lost CJ Leslie, Lorenzo Brown, Richard Howell and Scott Wood.