[youtube=http://www.youtube.com/watch?v=vBjpJiXonvU&w=640&h=360]
Duke graduated Seth Curry, Mason Plumlee and Ryan Kelly, also known as the Blue Devils top three scorers, and in the case of Plumlee and Kelly, Duke's leading rebounders.
So safe to say means Coach K will rely on the likes of Rasheed Sulaimon, Rodney Hood, Jabari Parker, Tyler Thornton, Amile Jefferson and rising junior point guard Quinn Cook. In an interview with Duke Blue Planet (seen above) Cook is looking to fill the role of leader.
"I think the biggest thing I learned about being a leader is leading by example," Cook said in the interview. "Being the first guy in the gym, being the last one to leave, getting up early."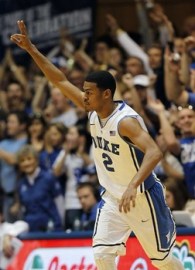 Cliches aside, Cook seems to be serious about taking on the added responsibilities this season. In June, he declined an invitation to try out for USA Basketball Men's World University Games team in order to stay on campus in Durham. During the interview he said he's working on his conditioning and adding muscle to his 6-foot-1, 175-pound frame.
The time spent in the gym will likely pay off for the junior floor leader, especially when this roster looks to favor his style of play. Outside of the rarely used 6-foot-11 Marshall Plumlee, Duke doesn't really have a true post presence. The Blue Devils will be equipped with a lot of perimeter scorers and shooters. Cook will be the one pushing the ball in transition and penetrating the lane to get shooters open looks — something he did well this past season.
"The style of play this year that I see is very fast, very fast, very uptempo," Cook said. "We have a lot of athletes, and I think coach will utilize our athletes to our advantage."
Though, Cook needs to prove he's a more consistent scorer. Last season, he did have some big scoring games — 27 on Clemson, 22 against Virginia. But there was also the 0-for-11 game against Wake Forest (had 14 assists), the 1-for-12 shooting in the blowout loss on the road to Miami, and the 3-of-11 from the field in the Elite Eight loss to Louisville.
The personnel Coach K has this year can pack a highlight reel quickly, but Cook doesn't want to be the director of just an exciting offense, he wants to be the leader of the next title contender, and he seems determined on doing just that. He'll have the weapons this season to do so, and from the reports if he somehow doesn't go down as one of the Duke's top point guards it won't be for lack of effort.