At his heaviest, at the end of his freshman season at Minnesota, Mo Walker was 346 pounds.
Think about that.
That's heavier than a lot of NFL offensive linemen, whose sole purpose on the field is to be able to stand in one place while getting hit at full speed by the likes of Jared Allen and Julius Peppers. In other words, Walker weighed more than men that were paid millions of dollars to get big enough not to move.
It's no wonder that Walker managed to average all of 2.2 points in 6.6 minutes last season, and that was in Tubby Smith's, grind-it-out system.
This year, he's being coached by Richard Pitino, the son of Rick Pitino, and while the apple doesn't fall to far from the tree, neither does the coaching style. The younger Pitino's teams press and get up-and-down the floor just as much as the elder's, which is why Walker has made the transformation you see below: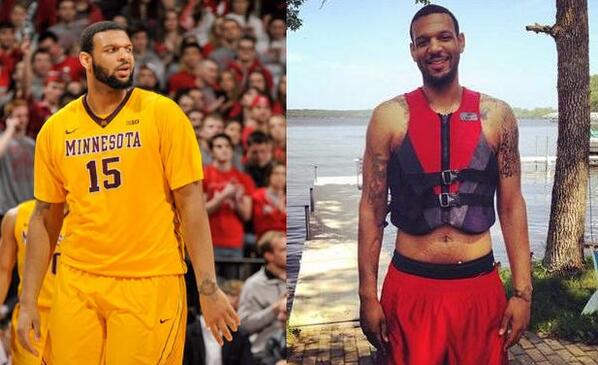 Walker's shed 50 pounds since the end of last season and nearly 100 pounds in his time as a Gopher, as he's now reportedly down to a trim 260.
"I'm really proud of him for being so self-motivated," Pitino told Jeff Eisenberg of the Dagger. "People think we've had this big, long strategic plan and we've had to be on him every single day, but it was really simple. I just told him he wasn't going to play unless he lost a lot of weight, and that was really it. He's done the rest."
How did he lose the weight?
Well, increased conditioning workouts and weightlifting sessions have helped, but the biggest change that Walker made was to his diet. No more pasta. No more junk food. No more ice cream and vanilla milkshakes.
"If I were to go to [a Mexican restaurant], I'd just have to order salad instead of a burrito," he told Myron Medcalf of ESPN.com.
The process isn't over for the redshirt junior. Just because Walker's in better shape and eating healthier doesn't mean that he's ready to take over the paint for Minnesota with Rodney Williams and Trevor Mbakwe off to the professional ranks.
He still needs to become a better basketball player, but that task is much easier without that extra weight slowing him down.