The bracket for the Battle 4 Atlantis, which will be aired on the NBC Sports Network, has been released.
The games will be played over a three-day stretch, beginning on Thanksgiving, at the Atlantis resort in the Bahamas. While the event will not feature the same level of talent as last year's tournament, which was headlined by Duke and Louisville and also included Memphis, Missouri, Stanford, VCU and Harvard.
This year, the event will be headlined by Kansas, a potential top five team with the nation's best freshman and a Preseason National Player of the Year candidate in Andrew Wiggins. That alone will be worth the price of admission and a plane ticket; there are worse way to spend the holiday than on a paradise island.
The most intriguing first-round matchup will take place between Xavier and Iowa. Iowa was a young team a year ago, but they return basically everyone from a young, promising team. Xavier brings back Semaj Christon, one of the nation's best freshmen a year ago, and should be able to compete at the top of the Big East next year.
The most interesting first round matchup will pit Villanova and USC, both of whom could end up on the bubble next season and would benefit greatly from the RPI boost that comes with playing Kansas. The only shame is that a matchup between Tim Floyd (UTEP) and USC (who could end up being the beneficiary of the Isaac Hamilton sweepstakes) likely won't happen unless both teams lose out.
Here's the bracket: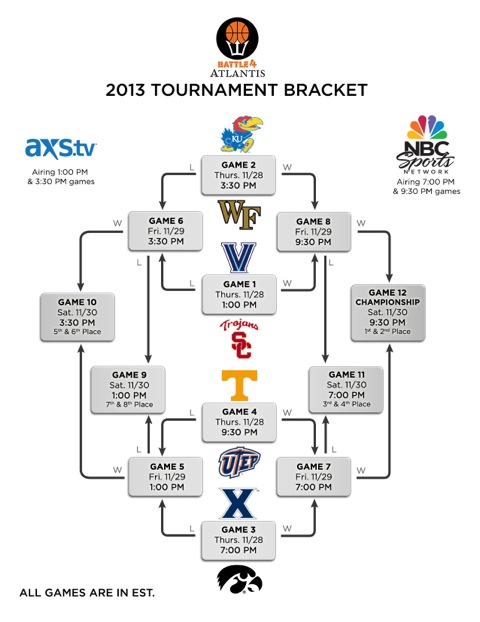 You can find Rob on twitter @RobDauster.