The University of North Carolina is in the news again, but this time they are the ones doing the finger pointing — kind of.
Iceberg Guards, on their website and social media pages, had been using North Carolina rising senior guard Leslie McDonald to promote their product. This doesn't fly for North Carolina athletic officials.
According to Steve Kirschner, North Carolina's senior associate athletic director for communications: "We sent a cease-and-desist letter to Iceberg regarding Leslie McDonald. They took his name off their site as a customer last week."
Below is a picture from Iceberg Guards' Facebook page that was posted on February 22nd: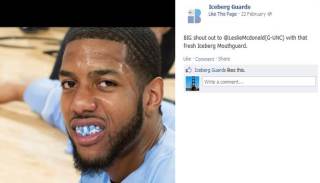 Iceberg Guards are custom-made mouthguards designed for athletes of all sports. From their website, Iceberg touts Floyd Mayweather (Boxing), John Cholish (UFC), Milani Malik (RCBL), Danny Green (NBA), and Scott Heckman (UFC) all as "success stories." One of the features that makes Iceberg Guards unique are "[s]everal open airway designs for maximum breathability."
One of the foundering partners of Iceberg Guards is Lee Gauser, a dentist who earned his undergraduate degree from UNC.
On the outset, this doesn't seem like a big deal for UNC, but if McDonald was accepting free mouthguards from Iceberg that could bring into question his eligibility as the NCAA is very stringent with athletes accepting gifts.
David Ridpath, a former compliance officer at Marshall and Weber State, said schools can send a cease-and-desist letter to warn a business that using a college athlete in a promotion can jeopardize the player's eligibility. Now an associate professor of sports administration at Ohio University, Ridpath said those often-inadvertent cases typically amount only to a secondary violation.
Recall just last year the NCAA came down hard on North Carolina football players for accepting improper benefits from people outside of the program.
Given North Carolina's decision to send a cease-and-desist letter to Iceberg Guards, it's clear they are being vigilant with this issue, but this story takes a serious turn when it came out that there is a link between P.J. Hairston's June arrest and Iceberg Guards:
It's the second off-court issue involving a UNC player the school has faced this offseason, following leading scorer P.J. Hairston's June arrest on a misdemeanor drug charge while driving a rental vehicle. That vehicle was linked to a man with a criminal history — who also has a business connection to one of the founders of Iceberg Holdings LLC.
Per the AP report, North Carolina athletic director Bubba Cunningham stated the school is gathering information on potential improper conduct by student-athletes.
If McDonald didn't purchase the mouthguards from Iceberg Guards, then this is an illegal benefit — plain and simple. Per their website, Iceberg Guards' mouthguards range in price from $150 to $1,500.
Can things get any messier for North Carolina? Where's Rutgers when you need them to take the spotlight off the Tar Heels?
You can find Kevin on twitter @KLDoyle11