[youtube=http://www.youtube.com/watch?v=_ZihSAA96-U&w=640&h=360]
After spending his first season at Colorado as a redshirt quarterback, Shane Dillon has elected to transfer from the university in order to pursue a college basketball career.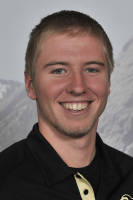 "I've grown up playing basketball my entire life, I've always been a basketball kid and have played since I was 4 years old," Dillon said in a school statement on Tuesday. "I was a late bloomer in football and never started playing quarterback until halfway through my sophomore year.
"I always kind of felt my decision that I had to play football was forced upon me a little bit," Dillon added. "People told me I had to make a decision by the end of my junior year between football and basketball because quarterbacks all seemed to commit pretty early.  Basketball has always been my passion, and even though I really enjoyed my year here, I felt the time is now for me to make the change."
The 6-foot-5 Dillon averaged 25 points and 12 rebounds as a junior at Christian High School in El Cajon, Calif. in 2011. He was a first-team All-Coastal League and first-team All-East County during that season. Dillon was a three-star quarterback according to Rivals, and decided to commit to the Buffaloes in May 2011 over offers from Arizona, Cincinnati, Ohio State and Vanderbilt.
"He's a wing with good size and the ability to shoot, handle and pass it," Marlon Cherry, Dillon's AAU coach told Jeff Eisenberg of Yahoo! Sports The Dagger on Tuesday. "He's a very good passer and from what he told me he's in shape and he played pretty much every day at the gym at Colorado, so he should still be a pretty darn good player."
According to the university, Dillon had initially contacted Tad Boyle, who has led the Buffaloes to two NCAA tournament appearances, about joining the team. However, no scholarships are available for the ex-signal caller. Eisenberg reported that San Diego, UC Irvine and Holy Cross all recruited Dillon when he was a junior in high school.
"Colorado is always going to have a special place in my heart," Dillon said. "I just have to go somewhere to continue my education and play basketball."
Terrence is also the lead writer at NEHoopNews.com and can be followed on Twitter: @terrence_payne