Two days before the 2013 NBA Draft and Syracuse point guard Michael Carter-Williams is projected as a lottery pick. In recent years, fellow Orange first round picks such as Jonny Flynn, Wesley Johnson and Fab Melo have given the impression that Jim Boeheim may not be the best at developing players for stardom in the NBA.
Chris Carlson at the Post-Standard wanted to show that the Hall of Fame coach isn't a poor developer of NBA talent, and to do so he compiled all 12 programs since 2003 that have sent six or more players in the first round. He broke them into two categories — players with above-average player efficiency rating (PER) and players with below-average PER. He used the average PER, which is 15 according to basketball-reference.com, as a way to separate the two categories.
Below is the chart that shows the success based on PER: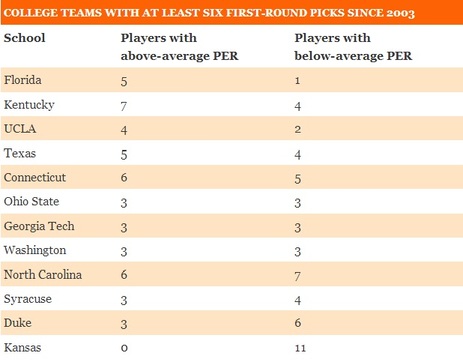 Before Kansas fans take to the comment section, Carlson acknowledges that although players like Nick Collison and Kirk Hinrich fall before the average of 15, he would consider their careers as successes. Even so, Andrew Wiggins will likely help Kansas' ranking in the next few years.
This chart was mainly to show that Syracuse is among several programs that have had first round picks fail to pan out in the association.
Top 10 picks that have below-average career PERs:

Syracuse: Jonny Flynn (11.3 PER in 163 games) and Wes Johnson (9.5 PER in 195)
Duke: Shelden Williams (12.5 PER in 361) and Austin Rivers (5.9 PER in 61)
BYU: Jimmer Fredette (12.5 PER in 130) and Rafael Araujo (6.3 PER in 139)
Kansas: Thomas Robinson (10.9 PER in 70), Kirk Hinrich (13.6 in 694)
North Carolina: Marvin Williams (13.5 PER in 560), Harrison Barnes (11 in 81)
Take this study as you will, but it does prove one thing: the NBA is a tough league.
"It's hard," Boeheim told the Post-Standard. "You can be a good college player and just not make the NBA. It's very difficult to do. Guys that people think will make it don't make it. It's not easy. There's are more good players now, not necessarily impact players, but more good players in the NBA. More pretty good players."
Terrence is also the lead writer at NEHoopNews.com and can be followed on Twitter: @terrence_payne