Andrew Wiggins is No. 22.
We know this because he wore No. 22 for Huntington Prep, for CIA Bounce and during the McDonald's All-American game.
Oh, and he wore it during the first open scrimmage that he had at Kansas, when he threw down this dunk.
And now?
Kansas just so happens to have a sale on No. 22 jerseys. You can find it under New Arrivals at the KU Online Bookstore. It's on sale, too, down to $39.99 from the usual $55.00: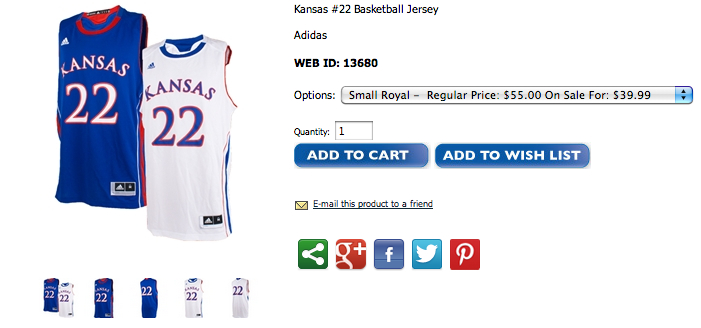 This has nothing to do with Andrew Wiggins enrolling at Kansas, right?
Because there's no way that Kansas would try to maximize jersey sales with Wiggins spending less than a year on campus, is there?
Because this new arrival to the bookstore is in no way associated with the new arrival to campus that happens to wear No. 22 and won't see a dime off of these jersey sales, correct?
You can find Rob on twitter @RobDauster.