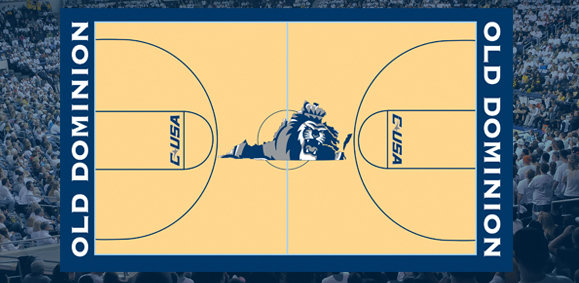 There seems to be a trend growing this offseason, and it's come in the form of new home-court designs.
We've seen it all, essentially, so far. From the outlandish (though, in my opinion, it's awesome), to the historic, to the basic.
Well, add Old Dominion, and you can lean their design closer to basic.
The Monarchs move into Conference USA beginning July 1, out of the Colonial Athletic Association. And with it, they bring in a new coach in former American head man Jeff Jones. So they felt, with all of the newness, it was fitting to update the court a bit.
The design itself is pretty standard, with a new-ish logo at center court and the C-USA logo at both free throw lines.
"Joining Conference USA on July 1 will provide Old Dominion University with a much larger branding and media reach through the league's national TV contracts with ESPN, FOX, and CBS Sports Network," Athletic Director Dr. Wood Selig said in a statement. "C-USA represents 16 institutions from 10 states, including 12 of the top 16 TV markets."
The court will be set for a redesign ahead of time, so this wasn't just a spur-of-the-moment decision to keep up the Joneses (no pun intended…meh, you know what, yea, it was intended), so to speak. It will be sent for resurfacing later this month.
(Photo courtesy of the Old Dominion Athletic Department.)
Follow David Harten on Twitter at @David_Harten