One byproduct of conference realignment has been the rebranding of some leagues, mainly to display the charting of a new path. That's the case for the Sun Belt Conference, which will welcome multiple new members on July 1.
The Sun Belt unveiled new primary and secondary logos on Sunday, as well as its new mantra of "Together We Rise." Also unveiled were team-specific logos for each of the 14 schools that will call the league home in 2014.
The Sun Belt Conference is now empowered by a new brand identity that capitalizes on 4 key principles (AMBITIOUS, AUTHENTIC, LOYAL, ADVENTUROUS). In addition, a new identity will represent the reinvigoration of the Sun Belt Conference brand through several points of uniqueness:

The chosen identity highlights the sun as a powerful and iconic expression for the conference that suggests unity, strength, promise and ambition.
The individual parts of the icon combine to create a unified whole and represent strength in togetherness; a foundational value at the core of the Sun Belt Conference brand.
The band of blue across the diameter of the icon symbolizes the Sun "Belt" region, while dually creating the feeling of a sun breaking the horizon at the dawn of a new day.
The primary logo: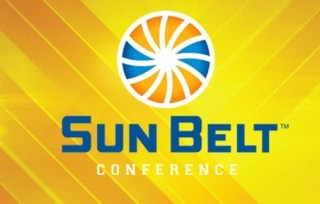 Four current members (FAU, FIU, Middle Tennessee and North Texas) will join Conference USA on July 1, with Western Kentucky following suit on July 1, 2014.
The Sun Belt adds three members this summer (Georgia State, UT-Arlington and Texas State) and two more in 2014 (Appalachian State and Georgia Southern), with Idaho and New Mexico State joining for football only in 2014.
Raphielle can be followed on Twitter at @raphiellej.