The 2012-13 season was a good one for Louisville head coach Rick Pitino to say the least.
A national title, a spot in the Naismith Memorial Basketball Hall of Fame and his son Richard becoming the youngest head coach in the Big Ten after being hired at Minnesota.
Unfortunately that luck didn't carry over to the track at Churchill Downs as Goldencents finished 17th in Saturday's Kentucky Derby.
But maybe the good fortune went with Pitino to the Bahamas, where he apparently reeled in an 80-pound white marlin. Jody Demling of Cardinal Authority supplied photos of the coach (and friends) with the big haul via Twitter.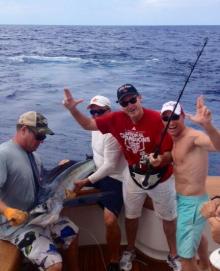 Raphielle can be followed on Twitter at @raphiellej.