On Wednesday UNLV unveiled the design of the statue being built in honor of the school's winningest head coach, Jerry Tarkanian, and it will include "Tark the Shark's" famous towel.
The bronze statue, which is expected to be finished by July and unveiled outside of the Thomas & Mack Center shortly thereafter, will be approximately life size with Tarkanian sitting down in a folding chair, wearing his traditional short-sleeved shirt and tie. He's holding the towel to his mouth in his right hand.
Those who aren't familiar with Tarkanian's career may wonder why the towel is important. According to his autobiography "Runnin' Rebel," Tarkanian first used a wet towel during his time as head coach at Redlands High School in California in 1960.
In a hot gym with his mouth getting dry constantly the coach soaked a towel in water to avoid having to make frequent in-game trips to the water fountain. Redlands won the game, and the rest was history.
"We won the game and the league championship," said Tarkanian in his book (published by Sports Publishing L.L.C.). "Because I was a superstitious person, I kept sucking on towels the rest of my career.
"It became my trademark, me sucking on a white towel during the most stressful times of a game."
Brian P. Scanlon, the official sculptor of the Hall of Fame, has been commissioned to handle the project. Estimated to cost nearly $150,000, the statue will be financed primarily through the raising of private funds.
The statue, which comes on the heels of Tarkanian being announced as a member of the 2013 Naismith Memorial Basketball Hall of Fame class on April 8, is part of the school's Jerry Tarkanian Legacy Project.
There are also plans for a scholarship fund in Tarkanian's name which may be used to help former players who leave UNLV without their college degrees return to school.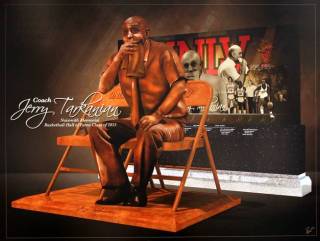 Photo credit: Sam Morris/Las Vegas Sun
Raphielle also writes for the NBE Basketball Report and can be followed on Twitter at @raphiellej.