This video is no longer available. Click here to watch more NBC Sports videos!
ATLANTA — This year's Final Four was as good of a Final Four as you will ever see.
All three games were thrilling, capped off by one of the most entertaining basketball games that I've watched in a long, long time. And frankly, it was a perfect way to end this season, one that reinvigorated many-a-jaded college hoops fans with great games, better finishes and a year where it seemed physically impossible to dislike the best players in the country.
The tournament needed this kind of a finish. After what was an overwhelmingly boring tournament — outside of Dunk City, of course — we closed it unforgettable fashion. I mean, seriously, Spike Albrecht scoring 17 points in a half, only to be outdone when Luke Hancock hit four threes in the span of two minutes? What in the freakin' world?
The problem that will be overshadowed, however, is that breathtaking hoops wasn't the only season-long trend that continued into the Final Four. Horrific officiating, particularly in the biggest moments of the game, managed to weasel it's way into the Georgia Dome.
It started with the mythical jump ball that Hancock was somehow able to earn in the final seconds against Wichita State when it looked like Ron Baker had gained control and given the Shockers a chance to tie on the last possession. It continued later that night, as Jordan Morgan was given credit for taking a charge that was dangerously close to being a block.
And then on Monday night, it was the worst call of them all.
On arguably the best defensive play of the season, Trey Burke was called for a foul as he went up to block Peyton Siva's breakaway dunk attempt.
Burke got it clean. Check it out for yourself: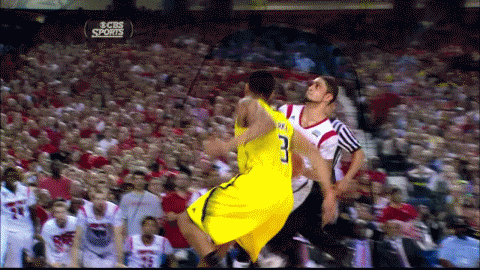 That's a block.
It was called a foul.
And the swing in momentum more-or-less ended any chance Michigan had to come back, because Peyton Siva hit both free throws to put Louisville up 71-64, a lead that they eventually extended to 76-66.
Now, Michigan may not have come back. They may not have won the game anyway. But they certainly didn't have any favors done for them with yet another missed call.
It was a problem that we ran into far too often this season. It was a problem that showcased itself on the biggest stage in college hoops.
Can we please do something to fix this?
You can find Rob on twitter @RobDauster.