The injury that Kevin Ware suffered on Sunday night was graphic and horrifying and one of the worst things that I've ever witnessed on a basketball court.
Injuries like this happen every now and then. Three years ago, Texas A&M's Derrick Roland broke his leg in a game at Washington. Football players and soccer players and rugby players have legs get snapped from time to time. But what made Ware's injury so powerful was a combination of two things:
– First of all, he was laying on the court on national television in the biggest game of the season to date with his tibia snapped in half, the bone sticking through his skin and his foot hanging on solely by his skin and his muscle. I'm seen feet dangling; I've never seen the bone protruding from the skin like that. It's horrifying.
– More importantly, it was the reaction of Ware's teammates that was so moving. Russ Smith and Chane Behanan were sobbing. Players on the bench vomited. Rick Pitino was wiping away tears. And when the game was over, Behanan and Siva both put on Ware's jersey. It was powerful.
Ware had a successful, two-hour surgery late last night.
Pitino and his son Richard, a former Louisville assistant and the current head coach at Florida International, visited Ware in the hospital last night and early Monday morning.
They brought the Midwest Regional Championship trophy with them.
"He was very excited about it," the elder Pitino said on the Final Four teleconference. But when they tried to take the trophy back, Ware said to them, "It's staying with me."
Ware's parents are at the hospital with him, and he's apparently in good spirits. He's becoming a really easy kid to root for. And, Pitino confirmed, he will be in Atlanta with the team for the Final Four.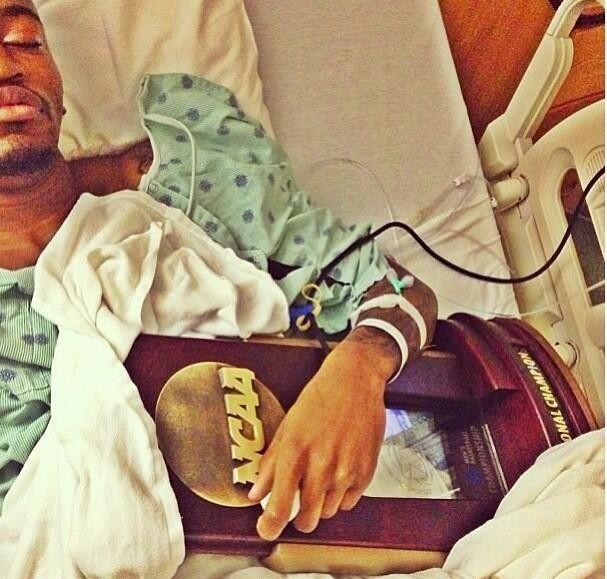 You can find Rob on twitter @RobDauster.