In the end, Florida simply dug themselves too big of a hole.
Thanks to some defensive miscues and a poor shooting start, Florida found themselves down 13-0, 20-4 and 41-17 before they woke up. By the time they did, the Gators simply couldn't get out of their own way, as a series of mental mistakes and curious coaching decisions stunted any comeback attempt.
Florida's season came to a close when the final horn sounded on Michigan's 79-59 win.
It was a disappointing finish to a season that had been so promising. Florida was No. 1 in the Kenpom rankings for the majority of the season. They were the only team to rank in the top five of both offensive and defensive efficiency. They won the SEC regular season title, but a season of dominance over mediocre competition was marred by their struggles in close games.
In other words, this Florida team wasn't one that you wanted to trust in a pressure situation. Playing a former No. 1 ranked team for the right to go to the Final Four in the Jerry Dome on national TV isn't exactly a walk in the park.
MORE: Photos from the Elite Eight
Florida allowed the Wolverines to make a run early in the game, but that's not really all that much of a concern. That happens. What was more concerning was the fact that, while watching Michigan pull away, Florida insisted on pounding the ball into their big men. Patric Young was being outplayed by Mitch McGary, while Erik Murphy was being out played by everyone; he finished 0-9 from the floor.
Florida also was apparently incapable of locating Nik Stauskas, who led the way with 22 points for Michigan and whose hot hand midway through the first half blew the game open. Look at his shot chart, via ESPN Stats & Info: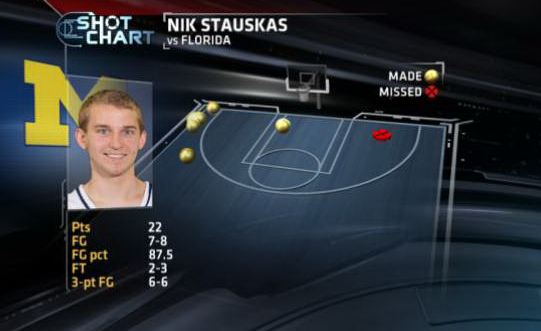 Stauskas loves that corner. I can guarantee that it was in Florida's scouting report, but if Luke Winn can figure it out, Florida's coaching staff should. Eventually, even if that was missed, you would think that someone would realize that getting a hand up on Stauskas, after he's hit three or four in a row from the same corner, would be a smart move.
(Here's the funny thing: you can't even credit Michael Frazier for trying to contest a Stauskas three when he committed a foul at the buzzer. He didn't. He just ran into Stauskas.)
Perhaps the most head-scratching move came early in the second half. Florida had started out on an 8-3 run when Billy Donovan called a timeout immediately after a bucket. The Gators had cut the lead to just 12 points with 15:48 left, but per NCAA tournament rules, Donovan's timeout would have to be a full-length media timeout: 3:30. When play resumed, McGary scored, Florida threw away the inbounds and Spike Albrecht scored, and then there was a whistle at the other end. Another media timeout, and this time Michigan was down 16 points. The Wolverines scored first out of that break, and that was pretty much it.
Florida's got a promising future, however.
MORE: Michigan blows out Florida for first Final Four trip since 1993
They may end up losing their top four scorers — three graduate, Young may go pro — but with a solid core of youngsters in their back court, who will be joined by stud freshman Kasey Hill, and some grinders up front (Will Yegeute and Casey Prather) to play alongside five-star recruit Chris Walker, the Gators will have plenty of talent on their roster.
You can find Rob on twitter @RobDauster.