FIRST WEEKEND MVP: Brett Comer, Florida Gulf Coast
This pick was easy, really. The FGCU point guard is the engine that makes Dunk City run. In wins over No. 2 Georgetown and No. 7 San Diego State, Comer averaged 11.0 points, 12.0 assists and 4.0 boards, setting the table for each and every one of those ridiculous alley-oops that his lanky and athletic front court finished for him. Perhaps more incredibly, he finished with just five turnovers 64 minutes despite throwing some ridiculously difficult passes. The Eagles want to get out and run the floor. They want to score in the 70s and the 80s and they want to be the Greatest Show in March. Comer is the guy that allows them to do just that.
All-First Weekend Team:
Khalif Wyatt, Temple: Wyatt couldn't lead his Owl team out of the first weekend, but it wasn't for a lack of effort: he went for 31 points against both No. 8 NC State and No. 1 Indiana.
Vander Blue, Marquette: Vander Blue had 16 points and a game-winner in a win over No. 14 Davidson, then finished with 29 and four steals, sparking the Marquette comeback, as the Golden Eagles knocked off Butler.
Ramon Galloway, La Salle: Galloway led the Explorers from the First Four to the Sweet 16 by averaging 21.3 points. 4.0 boards, 3.7 assists and hitting 12 threes.
Arsalan Kazemi, Oregon: Kazemi averaged 10.0 points, 16.5 boards and 2.0 blocks as Oregon knocked off both No. 5 Oklahoma State and No. 4 St. Louis on the way to the Sweet 16.
Jeff Withey, Kansas: Withey was the best player on the floor for Kansas in a win over WKU and then turned into a dominating force on both ends in the second half rout of North Carolina. He averaged 16.5 points, 11.0 boards and 6.5 blocks in the two games.
MOST DISAPPOINTING PERFORMANCE: Nate Wolters, South Dakota State
The opening round was supposed to be highlighted by Nate Wolters vs. Trey Burke, but Wolters picked an awful time to have a terrible game. He finished with just 10 points on 3-14 shooting as the Jack Rabbits lost to No. 4 Michigan 71-56. Ironically enough, Wolters may have actually helped his NBA cause with that performance, as he did a solid enough job defending the National Player of the Year Trey Burke.
BEST GAME: No. 3 Marquette 59, No. 14 Davidson 58
For all the talk about how boring the first day of the tournament was, it did provide us with our best game of the first weekend. Marquette, one of the worst three-point shooting teams in the country, avoided elimination by hitting three threes in the final minute to shave down a Davidson lead. Then with less than 10 seconds left, Davidson was up 58-57 and simply had to try to drain the clock, but managed to turn the ball over, setting up this final possession from Vander Blue:
[youtube=http://www.youtube.com/watch?v=0LbXGmEgjOY]
MOST OVERHYPED GAME: No. 4 Michigan 78, No. 5 VCU 53
This was supposed to be a thrilling matchup between Havoc and the nation's best point guard, but it turns out that Havoc couldn't hang. The Rams were shredded by the Wolverines, who eventually stomped every last ember of VCU's will in a thorough whooping of Shaka Smart's crew.
WHO WAS UNDERSEEDED?: No. 12 Oregon
The Ducks suffered half of their losses this season with Dominic Artis out of the lineup. They were coming off of a Pac-12 tournament title. They were a top ten team in the country before Artis went down with his foot injury. And for all of that work, the committee gave them a No. 12 seed? Oregon proved them wrong, beating both No. 5 Oklahoma State and No. 4 St. Louis in impressive fashion while advancing to the Sweet 16.
WHO WAS OVERSEEDED?: Everyone in the MWC?
For a league that generated so much hype during the season, it's a surprise that there will not be a single member of the Mountain West in the NCAA tournament's second weekend. Boise State lost in the play-in game and Colorado State got bounced in the round of 32 by Louisville. That's understandable. But No. 5 UNLV lost in the opening round to No. 12 Cal, No. 3 New Mexico was upset in their first game by No. 14 Harvard and No. 7 San Diego State became the second victim of Dunk City.
BEST DUNK: Comer-to-Fieler vs. Georgetown
There were about 25 options from FGCU alone, but between the moment, the unexpected nature and the fact that Chase Fieler had his hand above the square … yeah, this was incredible:
[youtube=http://www.youtube.com/watch?v=jlIBRkr4Ar4]
WORST DUNK: Chane Behanan vs. North Carolina A&T
This is about as embarrassing as it gets: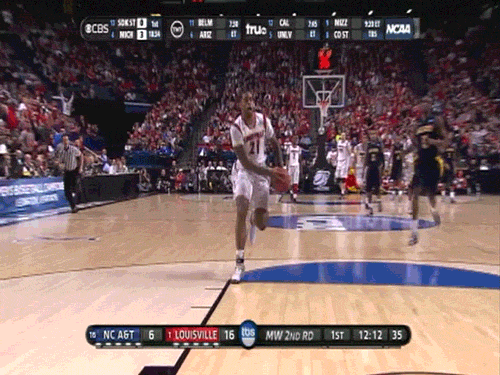 BEST SHOT: Aaron Craft's game-winner
This was the closest thing we had to a buzzer-beater during the first weekend:
BEST GIF: Julian Gamble, photobomb
BEST PICTURE: The Wat-swat
Christian Watford's block on Anthony Lee may have saved Indiana from getting eliminated in the round of 32: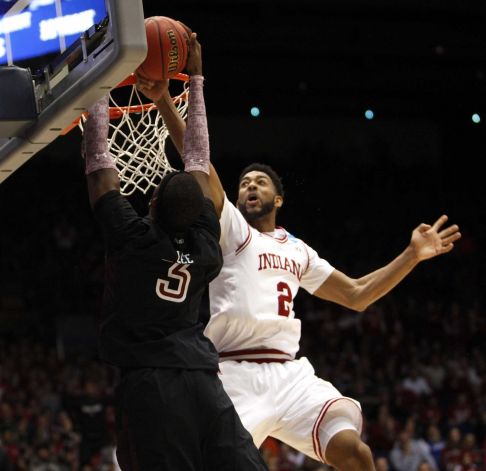 (Image via Terry Gilliam / McClatchy-Tribune News Service)