This video is no longer available. Click here to watch more NBC Sports videos!
Florida Gulf Coast made history Sunday night by beating San Diego State and becoming the first No. 15 seed in NCAA tournament history to make the Sweet 16. With how confident, explosive, and dominating they have been in two double-digit wins in this NCAA tournament, how could they possibly have ended up with that 15-seed?
Put simply, their resume in the regular season was deserving of it.
Florida Gulf Coast was 24-10 in the regular season and Atlantic Sun tournament, winning the conference tournament title and grabbing the automatic bid to the NCAA tournament. The Eagles hadn't even won the regular season conference title, losing out by a game to Mercer. They had an RPI of 106 and fell to 10-22 East Tennessee State and bottom-dwelling Lipscomb twice.
Looking at the other 15-seeds, their resume alone does not stand out. Albany also went 24-10 on the season. Pacific and Iona were both in the 100-range of RPI. Little did we know, we had a diamond sitting at the bottom of the South region.
Many are pointing now to the Eagles' win over Miami early in the non-conference season as evidence that we could have seen something like this coming. While it was noteworthy, Miami then is not the Miami now and the Hurricanes were without guard Durand Scott for that loss. Had FGCU lost in the Round of 64 to Georgetown, one could just have easily pointed to the losses above or its loss to Maine as "proof" that it was just another 15-seed waiting to get knocked out.
But as we have learned this weekend, this is not a typical 15-seed. This is a team with an incredible amount of confidence and the capacity for the most exciting transition attack we've seen in the tournament. The Eagles now move on to face intrastate foe Florida. Though the hysteria of two big upsets wins still surrounds this team, we're not sure exactly how they will play against the Gators. But that is something to worry about next week. Until then, they'll just keep dancing: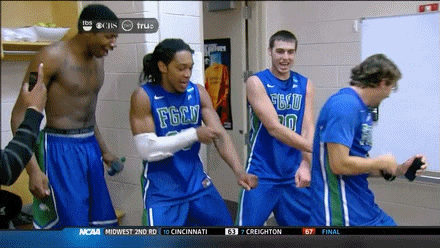 Daniel Martin is a writer and editor at JohnnyJungle.com, covering St. John's. You can find him on Twitter:@DanielJMartin_