It's fitting, really.
In the first NCAA tournament game that Josh Pastner has won in his four-year tenure as the head coach of No. 6 Memphis, the Tigers did everything they could to lose to No. 11 St. Mary's as the Gaels played the worst game that I've ever seen a St. Mary's team play.
The Gaels shot 32.8% from the floor. They were 3-15 from beyond the arc. Matthew Dellavedova? He was 3-13 from the field with six turnovers. Stephen Holt? He finished just 1-10 from the floor with just two points. Mitchell Young was 4-12 from the field.
And Beau Levesque may have had the worst day of them all. Normally a 46.9% shooter from beyond the arc, Levesque went 0-5 from three, including what may be the two ugliest airballs that I've ever seen from a legitimately good shooter: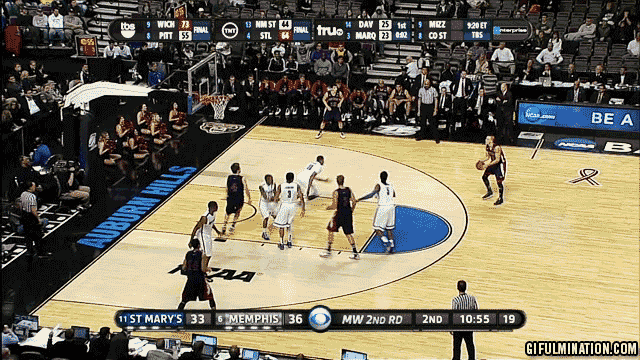 Despite that awful performance, St. Mary's still had a decent look at a three that would have won the game at the buzzer.
Instead, Dellavedova's three went long, and Memphis advanced to the round of 32.
And at this point, for Josh Pastner and the Tigers, they are in no place to complain about winning games in the NCAA tournament. As the saying goes, survive and advance. But just how long they will survive and just how far they will advance is left to be seen.
Memphis has as much talent on their roster as any team in the loaded Midwest Region. I truly believe that. The question is whether or not they are going to be able to execute and win with the pressure of the tournament bearing down on them. They survived on Thursday, but it wasn't the result of an overwhelmingly impressive performance.
Is a win what they needed to get off the schneid? Will this be enough to change the fortune and the culture of the program?
Who knows.
The only thing that I am sure of is that if Memphis plays the way they did today against Michigan State on Saturday, they won't be needing those hotel reservations in Indianapolis.
(GIF via @bubbaprog, CBS broadcast)
You can find Rob on twitter @RobDauster.