Basketball may be a big man's game, but college basketball is dominated by the teams who land the best ball-handlers, slashers and long-range shooters. Want to get to the Final Four? You have to have one or two elite guards. There are so many who will take the stage before the weekend comes, and I want you to know them all.
Numbers 1-8. Tom Petty Rob Dauster and the Heartbreakers: Eight of the most dangerous guards in the game were profiled by my colleague yesterday. Trey Burke, Seth Curry, Matthew Dellavedova, Kerron Johnson, Shane Larkin, Marcus Smart, Chase Tapley and Khalif Wyatt are known quantities, and I can't give them any stronger daps than Mr. Dauster already has. If you watched Tuesday night's games in Dayton, you got a preview of Dellavedova's shooting stroke, as the Aussie with the distinctive mouthpiece went off for 22 points to earn his team a date with Memphis in the real first round.
9. Ben McLemore, Kansas: The redshirt freshman from St. Louis has been a crucial piece for the Jayhawks, nailing a buzzer-beater to keep his team alive against Iowa State in the regular season, and showing an ability to throw down monster dunks during game action. It's his shooting stroke that promises to stand out in March – he sends television announcers into raptures every time he goes up for a jumper. Some are still holding out hope for injured Kentucky big man Nerlens Noel to be the NBA's top pick this summer, but others lean toward smooth-as-silk McLemore.
10. Russ Smith, Louisville: It's tough not to get giddy when a Louisville game is on the slate, because you know you're about to watch a veritable force of nature. Smith is speedy, so he's had a race horse named after him by his coach. Smith is an excellent scorer who also occasionally takes mental vacations (sometimes both on the same play), which has earned him the sobriquet Russdiculous. He's one of the main reasons the Cards are the No. 1 overall seed, and favorites to cut down the nets in Atlanta.
11. Aaron Craft, Ohio State: Craft is so crucial to the Buckeyes, but he doesn't always do it with scoring. Yes, he put 20 points on Michigan State in the Big Ten semifinals, and it's nice to know he has that gear when it's needed, but that's not really his game. Craft is a facilitator who averages 4.6 assists per game, but more than that, he's the best on-ball defender in the game right now. Woe to any opponent who hopes to dazzle pro scouts on a night when he lines up across from Aaron Craft. Which brings me to…
12. Lamont 'Momo' Jones, Iona: The nation's third-leading scorer behind Erick Green and Creighton big man Doug McDermott, Momo may be best remembered for his two years at Arizona, which ended in an Elite Eight run two years ago. Momo transferred to be closer to his family in Harlem, which was Iona's gain. Momo's deft passing is overshadowed by his gunnery, but he's good at dropping dimes as well. Momo vs. Craft is one of my must-see opening round matchups.
13. Victor Oladipo, Indiana: I could almost feel Hoosier fans getting edgier and edgier as they read the names of other guards at the top of this page. No, I haven't forgotten Mr. Oladipo. How could I? The 6'5″ junior was a revelation for the top-seeded Hoosiers this season, and if he hadn't played in the same league as Michigan's Burke, he would have garnered even more plaudits. The numbers say it all: Oladipo averaged 13.6 points, 6.4 rebounds, 2.1 assists and 2.2 steals per game this season. His deep shooting improved dramatically, going from 20 percent last season to 44 percent this year. When opponents double-team Cody Zeller in the post, Victor Oladipo is the man who makes them pay.
[youtube http://www.youtube.com/watch?v=bBzyJUYPooU%5D
14. Rotnei Clarke, Butler: Clarke is an Arkansas transfer who will only play this one season at Butler, but what a season it has been. Clarke hit a crazy one-handed shot in Hawaii in November, and he's been Butler's leading scorer all season long, averaging 16.7 points per game. Clarke has been somewhat mis-cast as a distributor for the Bulldogs – imagine what he could do if he had an elite point guard getting him the ball?
15. Shabazz Muhammad, UCLA: You may have wondered what the Free Shabazz Muhammad movement was all about when the freshman's debut was delayed by the NCAA. It's about this. UCLA is relevant in March again, and Muhammad is the biggest reason. Kudos also go to his backcourt mate Larry Drew II, but Muhammad is the face of the program right now, and likely to go high in the NBA draft in a few months.
16: Phil Pressey, Missouri: "Flip" led the SEC in passing this season, averaging 7.1 points per game. His nickname gets a little too on-the-nose when it comes time for him to shoot the ball, but he's perfectly capable of hitting some daggers as well. He'll have his hands full with Colorado State's rugged defense in the Tigers' first game, but his ability to involve his teammates will be the key to winning.
17: Ian Clark, Belmont: We talked about Kerron Johnson above, and it's a measure of how dangerous Belmont can be that we felt the need to mention Clark as well. Clark averages 18.1 points and 3.3 assists per game, and the senior from Memphis is a constant threat to poke away a steal or two from an unwary opponent. With their dual engines in the backcourt, Belmont could easily be a Sweet Sixteen team.
18: Derrick Marks, Boise State: If you're getting anxious, you can watch Marks tonight, as his Broncos take on Ramon Galloway and the La Salle Explorers in Dayton at 9 pm on tru TV. Marks plays his biggest in big games. He dropped 35 points on Creighton, earning a win that probably tipped the scales when the selection committee put BSU in the Dance. He also hung 27 on New Mexico, 38 on Colorado State and 27 on San Diego State in Mountain West play.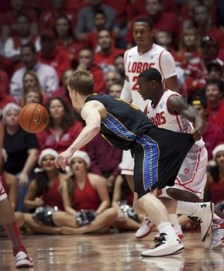 19: Michael Carter-Williams, Syracuse: At 6'6″, MCW is so big it's easy to forget he's a guard. But his 7.7 assists per game in the rugged Big East render the distinction moot. He can also throw down an eye-opening dunk when the opportunity presents itself, and is a defensive force for the Orange as well, averaging 2.7 steals per contest.
20: Nate Wolters, South Dakota State: No, I haven't forgotten Wolters. Neither have Michigan's coaches, who are no doubt wide-eyed and suffering from the caffeine shakes as they try to figure out how to keep the Jackrabbit stud from dousing their title quest on the first day. Wolters can do it all: He's averaging 22.7 points per game and is capable of scoring 30 on any given night. He rebounds, dishes, defends and hits the three-pointer at a roughly 40 percent clip. And if you put him on the line, he'll sink you there, too. He's an 81 percenter on the freebies. If you want to sound smart around the water cooler this week, get to know Wolters.
The killer part of this is that I just gave you twenty guards to keep an eye on, and I still feel reasonably certain that someone not on this list will distinguish himself on the national stage before it's all said and done. That's how good this year's crop of guards is. Think I left someone out? Let me have it in the comments.
Eric Angevine is the editor of Storming the Floor. He tweets @stfhoops.