The First Four got started last night, and it gave those interested a chance to find True TV on their dials for the first time. Apparently Shaq has his own viral video show. Yeah, I'll pass.
Oh, did I mention that Kentucky lost to Robert Morris last night. So there's that.
Let's hit the links.
 
 
Read of the Day:
The rise of Victor Oladipo from lightly recruited prospect to National Player of the Year candidate. Read it. (Sports Illustrated)
Les Carpenter's take on Robert Morris' monumental win over Kentucky last night in the first round of the N.I.T. Read it. (Yahoo Sports)
 
 
Top Stories:
Top-seeded Kentucky upset by Robert Morris in first round of NIT: The defending national champions lost on the road in the first round of the N.I.T. to the Colonials of Robert Morris.
Ten crazy things to expect from March Madness: We are told to expect the unexpected. Here are ten unexpected things that you should expect to see.
Picking Winners: Why I think St. Louis will upset Louisville in the Sweet 16: Louisville is one of the two best defenses in the country. But the Billikens went 2-0 against the best defense in the country. If there is team that's going to beat Louisville in the Sweet-16, it's Saint Louis.
Please don't use MTSU's loss as proof they didn't deserve a bid: The Blue Raiders are better than their performance last night. Their loss to Saint Mary's doesn;t validate the argument that they didn't belong in the Big Dance.
NC A&T survives Liberty in First Four, advances to play No. 1 Louisville: No. 16 North Carolina A&T shot 51.9 percent from the floor, twelve percentage points above its season average, outlasting fellow No. 16 seed Liberty, 73-72, in the opening game of the First Four.
VIDEO: Picking your brackets with … ytterbium: Physicists use elements to determine NCAA tournament winners. I'm glad this is a video because I was never good at chemical equations.
Ten moments that defined March Madness (plus two the NCAA won't show you): Our collection of the best plays moments and games that have helped to define March Madness.
 
 
Observations & Insight:
– Butler, Xavier and Creighton will announce their intentions to join the new Big East today. (Sporting News)
– Whatever they decide to call leftovers from the Big East, their tv deal won't be worth nearly as much as they thought. (Deadspin)
– ACC coaches were not happy that the conference received just four bids to the NCAA tournament. (CBS Sports)
– Wait, so the same ACC coaches voted for conference player of the year, and Erick Green only got two first place votes? That's not cool. (Fayetteville Observer)
– What will the Kentucky freshman do now that their season is over? Will they stay or will they go? Following the loss to Bobby-Mo last night, they seemed to hint at returned at Lexington to take care of some unfinished business. (The Dagger)
– This is one of the bigger questions as we enter the first real day of the NCAA Tournament: Will the Big Ten's meat grinder of a season affect teams' tournament stamina? (USA Today)
– Ten mid-major stars that can bust your teams brackets. Mike Muscala. Remember the name. (ESPN)
– Some interesting statistical analysis on in the impact high-usage players have against the Syracuse zone. (Hoop Vision)
– This is probably the first thing Rick Reilly has written at ESPN that I've enjoyed reading. Even if you don't enjoy his stylings, I suggest you read this. (ESPN)
– Statistical analysis on just how much strength of schedule effects seeding. (Cracked Sidewalks)
– Belmont will be king of the brackets…..if it was run using the academic progress rating. (Inside Higher Ed)
– Stanford wants to contend for the Pac-12 title next season. Could that indicate that Johnny Dawkins seat will start to heat up? (Oakland Tribune)
 
 
Odds & Ends:
– The wife of FGCU head coach Andy Enfield is really, really, really, really hot. (The Big Lead)
– A great-read on J.J. Reddick, who kinda admits that he may have been a prick in college. (Grantland)
– The best bets to make on second round games. (Mercury News)
– ESPN is running a bracket pool that will benefit a victim of the Newtown shooting. (ESPN)
– Some quick numbers on filling out the perfect bracket, plus the best picture ever. (USA Today)
 
 
Hoops Housekeeping:
– Georgia Tech sophomore Julian Royal will transfer at the end of the semester. (Atlanta Journal Constitution)
– Buffalo fired head coach Reggie Witherspoon on Friday. The former-head coach held a press conference inside his house to convey his shock by the school's decision. (Eye on College Basketball)
– Cal State Northridge is parting ways with head coach Bobby Braswell after 17 years of service. (Eye on College Basketball)
– Duke assistant Chris Collins is strongly rumored to be considering the the vacancy at Northwestern. (Duke Hoop Blog)
– Two Wagner players, center Naofall Folahan and guard Eric Fanning, have decided to transfer out of the program. (Big Apple Buckets)
 
 
.GIF of the Day:
Archie Goodwin got clotheslined from behind on a fast break. Ouch.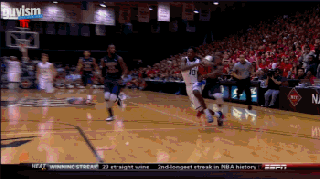 Video of the Day:
March Madness extends to the N.I.T.
[youtube http://www.youtube.com/watch?v=yPw40IwdgMc&w=560&h=315%5D
 
 
Do you like the new Morning Mix? Hate it? Have a suggestion or want something featured? Troy Machir will take all your praise, insults and inquiries via Twitter (@TroyMachir