All of sports are somewhat unpredictable. If they weren't, nobody would watch. And most certainly nobody would fill out brackets if the outcome were that easy to determine. Athletes would play sports just to – ugh – stay healthy, and there would be no need for competitive fire or excellence.
So why is March singled out for the sobriquet "Madness"? Let me count the ways.
1. The three-pointers will fall: The three-pointer has become the great equalizer that makes even the lowliest team incredibly dangerous. Can't entice a 7-foot behemoth to play at a small agricultural college in the sticks? No problem. Get three or four small, quick guys and let them bomb away. Example: Ali Farokhmanesh and Northern Iowa gunned down top seed Kansas in 2010, earning a Sweet 16 berth.
2. Players will forget the rules of basketball: This happens so often in college hoops that it drives NBA fans crazy. In the heat of the moment, 17-22 year olds make mistakes, often drastic mistakes, like shooting an off-balance three-pointer when an easy inside two-pointer would have tied the game. It's really more situational awareness than ignorance of the rules, but it's definitely the sort of thing that makes us potato-chip eating spectators shout invective from the couch. The most famous example is Chris Webber calling a timeout Michigan did not have in a 1993 title-game loss to North Carolina.
3. Referees will forget the rules of basketball: Again, nobody's literally forgetting the rules, but we've all seen violations called unevenly. It's bound to happen again this year. The calls most fraught with danger for a ref are blocking and charging, in which a high-speed collision between two players must be assessed as a foul for one team or the other. Excessive touch-fouls (light contact that is technically a foul, but slows the game down and effects the outcome disproportionately), lane violations and figuring out whether a defensive player made a clean block or committed a goal-tending violation are also matters of national outrage at this time of year.
4. Full-court pressure will cause chaos: If you're an old-ish guy like me, this brings to mind the "Forty Minutes of Hell" deployed by Nolan Richardson's Arkansas teams of the 90s. UNLV also tended to play this way in the Tarkanian years. These days, the finest example is practiced by Shaka Smart's VCU Rams, who rode "Havoc" all the way to the Final Four a couple of years ago, and are a threat to do so again. When the press is on, it's bewildering to opponents and exciting to watch.
5. Crazy players will light up the screen: Colorful characters can be hard to come by in college hoops. Coaches tend to tamp down the outrageous antics, but some guys are just irrepressible. This year, the guy you need to watch is Marshall Henderson, who absolutely loves being on television, and has become an internet star for trolling opposing fan bases with abandon. Most recently, he did a smarty-pants version of the Gator Chomp in the waning moments of the SEC title game. We may have to rename 2013 "Marsh Madness" if Henderson takes his team on a run.
6. Colorful coaches will say stuff they probably shouldn't: Only in sports are grown men allowed – nay, encouraged – to act like toddlers. NCAA coaches will stomp, scream, swear and even get physical as the tension ratchets up. And that's just during the game. Some coaches make headlines by showing off during organized practice sessions, or sounding off from the podium afterward. Quotable coaches abound in this field of 68, with Marquette's Buzz Williams joining legends like Tom Izzo, Roy Williams, Rick Pitino and Bill Self. Heck, even nice guy Tom Crean might give someone a talking-to when he gets his dander up.
7. Games will end on thrilling defensive plays: We talk so much about the buzzer-beaters, which gives short shrift to the guys who put in the extra effort to snuff them out. Think Hakim Warrick laying out and just getting his fingertips on a three-point try to preserve Syracuse's lone national title in 2003.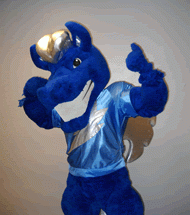 8. Mascots will amuse and baffle you: You've probably seen the likes of Sparty, Albert E. Gator, and Willie the Wildcat. They're on constant display during football season. The inclusiveness of the NCAA tournament brings some lesser-known doozies into the public eye. The St. Louis Billiken may frighten children. Wichita State's Wushock is the meanest bundle of wheat I've ever seen. Here, there be Jackrabbits. The pinnacle, though, is Lightning (pictured): the Middle Tennessee State mascot is a blue Pegasus who shoots thunderbolts out of his nose. Top that.
9. Student sections will cut up: Some kids take spring break in Florida, California or South Texas. Others combine the unofficial college holiday with college basketball, with all that entails. Student sections are somewhat corralled in neutral venues, but often, they're the only thing keeping the whole shebang from becoming a bloodless corporate sponsorship opportunity. Laugh at their chants, signs and attempts to get on television. Relish them.
10. A mystery player will make a star turn: Many, many players are well-kept secrets, known only to college-hoops obsessives like the staff of CollegeBasketballTalk. We get to play the hipster role ("I noticed him when nobody knew who he was") when those guys get to the tourney and dazzle. Last year, Damian Lillard was socked away at Weber State – now he's a Rookie of the Year candidate in the NBA. This year, we've got our eyes on the likes of Mike Muscala (Bucknell), Nate Wolters (South Dakota State) and Jamaal Franklin (San Diego State). And there may be others lurking, just waiting to show us what we've been missing.
Eric Angevine is the editor of Storming the Floor. He tweets @stfhoops.