After much consternation and discussion and analysis in the six days since Gonzaga ended their season by winning the WCC tournament, it turns out that the Zags did end up getting the No. 1 seed out West. That means that, if they keep on winning, they'll be playing their first two games in Salt Lake City and their next two games in Los Angeles.
The problem with that plan?
New Mexico, the dual-champion of the Mountain West Conference and one of the stingiest defensive teams in the country, is the No. 3 seed out West and will be following that same path towards the Final Four. As will No. 6 seed Arizona, should they make it out of their tough opening round matchup with Belmont.
Should I mention that the Zags also are going to have their hands full with whoever ends up winning the rugby match that will break out during No. 8 seed Pitt's battle with No. 9 seed Wichita State?
Here's your West Regional breakdown: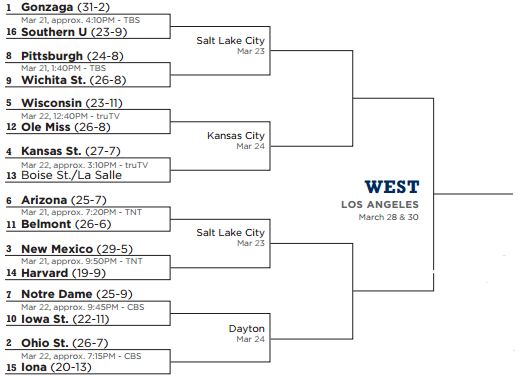 (CLICK HERE: To browse through the rest of our 2013 NCAA Tournament Previews)
Three story lines to watch
The narrative for this region will end up being that it's the easiest of the four, which isn't necessarily untrue. It's certainly not as intimidating as the Midwest, and none of the top four seeds are going to strike fear in the hearts of cinderellas. But when that point is brought up, it's important to mention that this is not a good draw for Gonzaga in terms of matchups. Both Pitt and Wichita State have the size to matchup with Kelly Olynyk and Elias Harris. Kansas State does as well, and New Mexico may matchup with the Zags better than any team in the country.
There are some really dangerous double-digit seeds out West. Iowa State can beat anyone in the country on the nights their threes are going down. Belmont's a veteran team with arguably the best backcourt in the region. Ole Miss is hot, coming off an SEC tournament title, and has one of the nation's most dangerous scorers in Marshall Henderson. Even the Boise State-La Salle winner and Harvard can win a couple games, and Iona has a number of high-major transfers on their roster.
Can Ohio State make another run to the Final Four? There hasn't been a hotter team in the country over the last month, and they've got a favorable bracket.
The Elite 8 matchup is…?: No. 1 Gonzaga vs. No. 3 New Mexico
Difficult matchups aside, I still believe that Gonzaga is as good as any team in the country, if not the best team in the country. Their front line is just a nightmare to try and defend, and while they will have to get by some teams with size up front, how many of those teams have big men with the size and the versatility of Gonzaga's? (Hint: none.) I know the reputation of the Mountain West is to underperform in the NCAA tournament, and while I don't necessarily see that changing this season, I think this season will be the time that New Mexico finally bucks that trend. Ohio State will be tough, but I think the Lobos are stingy enough defensively to take away Deshaun Thomas and balanced enough offensively to limit Aaron Craft's disruption.
Final Four sleeper: Pitt
The Panthers are the No. 8 seed out West. They also happen to be the No. 7 team in the country according to Kenpom's efficiency rating. Pitt historically struggles in the tourney, but if they can pull the upset over Gonzaga in the Round of 32, Jamie Dixon's club will have favorable matchups the rest of the way.
Best opening round matchups
No. 13 Boise State vs. No. 13 La Salle: Both the Broncos and the Explorers are overloaded with quality perimeter players, and this should "devolve" into a open-court, up-and-down affair that sees plenty of threes being fired up.
No. 8 Pitt vs. No. 9 Wichita State: It may end up being the polar opposite of Boise State and La Salle, but if you like seeing big men battle in the paint, this game will provide that.
Matchups to root for
No. 3 New Mexico vs. No. 6 Arizona: Not only would that pit the best team from the Mountain West against one of the best teams in the Pac-12 for west coast bragging rights, it would take place in Salt Lake City, a locale easy for both fan bases to get to.
No. 2 Ohio State vs. No. 7 Notre Dame and No. 11 Belmont: Aaron Craft and Shannon Scott might be the best defensive back court in the country. They get Momo Jones and Sean Armand of Iona and then, hopefully, Notre Dame's Eric Atkins and Jerian Grant and Belmont's Kerron Johnson and Ian Clark.
The studs you know about
Aaron Craft, Ohio State: Deshaun Thomas gets the attention, but Craft is a difference-maker defensively and his emergence offensively has spurred Ohio State's late-season surge.
Kelly Olynyk, Gonzaga: He's a seven-footer with guard skills that has become the most devastatingly-efficient front court scorer this side of Doug McDermott.
Marshall Henderson, Ole Miss: He's brash, he's cocky, he's emotional and unafraid to show it, and he just so happens to be a 20 ppg scorer.
Rodney McGruder, Kansas State: McGruder had some issues shooting the ball earlier this season, but he's like a less-athletic version of Ben McLemore.
The studs the nation will find out about
Ian Clark, Belmont: Not only was he the OVC's co-Player of the Year alongside Isaiah Canaan after averaging 18.1 points, but the 6-foot-1 sharpshooter was also the Defensive Player of the Year.
Ramon Galloway, La Salle: Galloway is a senior from Philly that transferred to his hometown school from South Carolina and has had a great season. He's a bigger, more athletic guard with a vicious handle that's unafraid to pull from deep. He takes — and also makes — some crazy shots.
Upsets that ARE happening
No. 11 Belmont over No. 6 Arizona: Belmont's back court is going to give Mark Lyons and Nick Johnson nightmare, while I just don't see Arizona's front court being big enough to take advantage of the Bruin's lack of size inside.
No. 10 Iowa State over No. 7 Notre Dame: The Cyclones are a streaky team because of their reliance on the three-ball, but they have perimeter-oriented big men that will be a nightmare for Jack Cooley to try and cover; it's how they nearly beat Kansas twice this season. Point guard Korie Lucious has played in a Final Four, and Chris Babb is an excellent on-ball defender.
Upsets that AREN'T happening
No. 7 Notre Dame/No. 10 Iowa State over No. 2 Ohio State: Aaron Craft and Shannon Scott will shut down Notre Dame's talented back court, while the Buckeyes have displayed a small lineup of late — using Deshaun Thomas at the five — that can matchup with ISU.
No. 12 Ole Miss over No. 5 Wisconsin: The Rebels got hot late, and they deserve credit for that, but I can't see a team that lost to Mississippi State and South Carolina beating Bo Ryan's team.
CBT Predictions: I think New Mexico's front line ends up being too much for the smaller Ohio State to deal with, but the Lobos end up losing in a thriller — and packed house — for the right to go to Atlanta.
You can find Rob on twitter @RobDauster.