Here's the irony about the South Region: there is more star power in this portion of the bracket than anywhere else, yet it is as wide-open as any region this season.
Let's start with the coaches, as ten of them — Bill Self, Roy Williams, Jay Wright, Shaka Smart, Ben Howland, Tubby Smith, Billy Donovan, Steve Fisher, Lon Kruger and John Thompson III — have made at least one Final Four. That list doesn't include John Beilein.
That's almost as impressive as the number of stars that will be setting foot on the court. Trey Burke, Otto Porter, Ben McLemore, Jeff Withey, Shabazz Muhammad, Nate Wolters, Jamaal Franklin, James Michael-McAdoo.
The bottom-line?
There will be no shortage of people to write about in the South.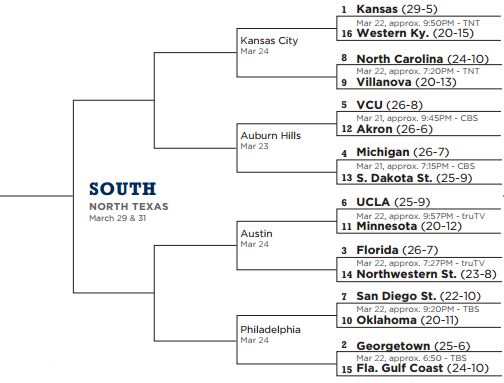 (CLICK HERE: To browse through the rest of our 2013 NCAA Tournament Previews)
Three story lines to watch
Will this be the end of the road for Ben Howland at UCLA? The chatter about his job status that started back in November hasn't exactly subsided. With the amount of talent that he brought into the program this season, what does Howland need to do to save his job, assuming he even wants to remain with the Bruins? A Sweet 16? An Elite 8? Without Jordan Adams? That's a tall task.
Take a look at who Howland drew in the opening round: Minnesota and head coach Tubby Smith, who is dealing with his own hot seat issues right now. Winner remains employed?
With the obvious caveat that they first need to knock off Villanova in the opening round, how awesome would it be to see Kansas reunite with former head coach Roy Williams in the round of 32? And to have the game take place in Kansas City, no less?
The Elite 8 matchup is…?: No. 1 Kansas vs. No. 3 Florida
I still think that Kansas is probably the favorite to come out of the South, although I think that they are probably the least likely of the No. 1 seeds to make the Final Four. Their back court play has been better of late, but the Jayhawks still don't have a true point guard. Ben McLemore is going to be a top five pick, but at this point in his career he's still more of a spot-up shooter and transition finisher than he is a go-to guy. But their defense, anchored by Jeff Withey, can be dominant when it needs to be, and Kansas will need it to be.
As far as Florida is concerned, I'm very well aware of their issues in close games. They are 0-6 in games decided by single digits. But those account for six of just seven losses, meaning that they've won a lot of games by a lot of points, which is part of the reason why the Gators are the only team in the country in the top five in offensive and defensive efficiency. I don't think they get challenged until the Sweet 16 and Georgetown, and I think that Florida's smothering defense — and Will Yeguete on Otto Porter — may be enough to get them to the Elite 8.
Final Four sleeper: VCU Rams
And they may be more than just a 'sleeper'. Think about it like this. VCU's press can be flat-out devastating. Akron's starting point guard was suspended after getting arrested. Michigan may be the nation's least turnover-prone team, but they are also very young, they haven't seen a press this season and they'll have about 48 hours to prepare for it. Kansas has all kinds of turnover issues in their back court. Georgetown and Florida aren't exactly striking fear in the hearts of Shaka Smart's club. Am I losing it?
Best opening round matchups
No. 4 Michigan vs. No. 13 South Dakota State: This may actually be the single-best opening round matchup int he entire tournament. Similar styles. Nate Wolters vs. Trey Burke. Thank you, Selection Committee.
No. 7 San Diego State vs. No. 10 Oklahoma: Lon Kruger knows the Aztecs well from his time at UNLV in the Mountain West, but will that be enough to handle Jamaal Franklin and company?
Matchups to root for
No. 1 Kansas vs. No. 8 North Carolina: It's more than just the Roy Williams thing. UNC actually has a chance to win this game. Going four guards, spreading the floor and forcing Withey to defend on the perimeter is how Oklahoma beat Kansas and how Iowa State nearly beat Kansas twice. That's what the Heels will do.
No. 4 Michigan vs. No. 5 VCU: The clash of styles would just be so intriguing to watch.
No. 6 UCLA vs. No. 7 San Diego State: These two schools have developed a bit of a SoCal's finest rivalry over the past couple of seasons. There are some hurt feelings from the recruiting trail involved here.
The studs you know about
Trey Burke, Michigan: Point guard. National Player of the Year.
Otto Porter, Georgetown: Small forward. First team all-american and National Player of the Year runner-up.
Ben McLemore, Kansas: Future top five pick in the NBA Draft, McLemore may have the prettiest stroke in the country and also throws down windmills in games. Now we'll see if he can do anything else.
Nate Wolters, South Dakota State: The kid's not a secret anymore. He played in the tournament last season after being hyped up all year long. The only surprise people are going to have about Wolters is that he's still in school.
The studs the nation will find out about
Jamaal Franklin, San Diego State: You should know who he is after he did this.
Ryan Arcidiacono, Villanova: He's more than just the complicated last name. The freshman point guard has proven that he has the guts to take and make a big shots.
Upsets that ARE happening
No. 11 Minnesota over No. 6 UCLA: I know how well Minnesota has played of late. I get it. But they don't need to play well against the Bruins. All they have to do is play hard. The Gophers are as good as anyone in the country at getting to the offensive glass, and UCLA is small and doesn't seem to care all that much about rebounding.
Upsets that AREN'T happening
No. 13 South Dakota State over No. 4 Michigan: The Wolverines and the Jackrabbits just play too similar of a style, as they both rely heavily on the playmaking of a dynamic point guard that dominates the ball.
No. 7 San Diego State over No. 2 Georgetown: San Diego State struggles shooting from beyond the arc, and that's exactly what they will be forced to do by the Georgetown defense.
CBT Predictions: As of today, I'm picking Florida over VCU for a trip to the Final Four, but that's going to chance. Check back on Wednesday for my 'official' picks.
You can find Rob on twitter @RobDauster.