Indiana didn't get Indianapolis.
The Hoosiers lost to Wisconsin in the semifinals of the Big Ten tournament, meaning that they sat at home on their couch and watched as Louisville beat Notre Dame and then Syracuse to win the Big East tournament title. As a result, the Cardinals played their way into the No. 1 overall seed, meaning that they got a preferential locale and a spot in the Midwest Region.
So Indiana heads East, meaning they could end up playing Syracuse in DC in the Sweet 16, a game that could feature more orange in the stands than red.
That said, when you look at the East Region, it's tough not to think that the Hoosiers may have actually lucked out. The Midwest is the Region of Doom, where the East Region is more talented-but-enigmatic. NC State? Syracuse? UNLV? They won't strike fear into Indiana's heart. Neither will No. 2 seed Miami, or No. 3 seed Marquette. Butler, the No. 6 seed in the East, could end up being dropped by a Bucknell team that matches up really well with them.
All things considered, Indiana got a pretty good draw.
Here's your East Region breakdown: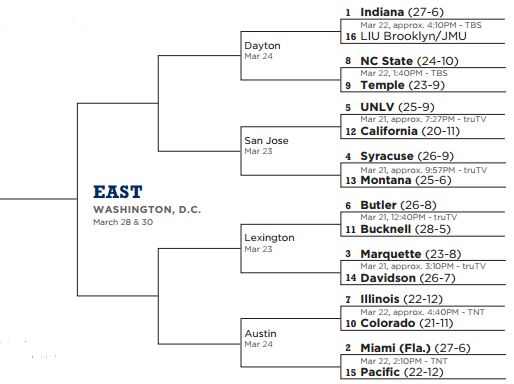 (CLICK HERE: To browse through the rest of our 2013 NCAA Tournament Previews)
Three story lines to watch
We could end up getting a conference matchup in the round of 32 if Butler and Marquette both advance, which is not guarantee. At some point this week, Butler is expected to announce that they are leaving the Atlantic 10 and joining up with the Catholic 7 in the new Big East. Throw in the fact that, you know, they're Butler, and there will be a lot of hype surrounding that game. Oh, and who can forget this game?
Will UNLV prove that it deserved the No. 5 seed gift the committee gave them? Most agree that the Rebels probably got overseeded by the committee. Were they really within two natural seed lines of New Mexico and three natural seed lines better than Colorado State? That's a tough call. You know what else is tough? Drawing Cal in the opening round in a game that will be played in San Jose. I guess it all evens out.
James Madison's leading scorer became the first player to be arrested before tournament play starts. Who's next?
The Elite 8 matchup is…?: No. 1 Indiana vs. No. 2 Miami
When I actually sit down to fill out my bracket, things may end up shaking out differently, but I'm just not sure who in the East is going to be able to take down IU or UM. I know the Hoosiers went 3-3 down the stretch, but they were also arguably the best team in the country before then, and I'm not quite sure how much has changed since. Victor Oladipo, the nation's preeiminent role-player, has been so good at what he does this season that people have completely forgotten about the fact that Cody Zeller is the best post scorer in the country. He's surrounded by shooters, he's getting more aggressive by the day and he won't have to deal with the overly in-depth scouting reports of the Big Ten anymore.
I have a theory about making the Final Four. I think you need four things: a quality point guard, size up front, the ability to lock down defensively, and a stud to give the ball to in the clutch. Miami is 4-4 on that list. It would be nice if Reggie Johnson hopped out of the funk that he's been in recently, but the bottom-line is that there is a reason that Miami won the dual-ACC titles. Some of it is Ryan Kelly's injury and North Carolina's struggles early-on, but a lot of it has to do with the fact that the Hurricanes are actually a really good basketball team and Shane Larkin is the real deal at the point.
Final Four sleeper: Illinois
I'm not betting this will happen. I'm certainly not going to have it in my bracket. But hear me out. Illinois has proven they can win big games, knocking off Gonzaga in Spokane and Indiana at home. They are a dangerous three-point shooting team on the nights that they get hot. They can spread the floor on Miami in the round of 32 and take away the effectiveness of their big men. Neither Butler nor Marquette is overpowering. And they've already beaten Indiana. So you're telling me there's a chance?
Best opening round matchups
No. 8 NC State vs. No. 9 Temple: The Wolfpack have a ton of talent and an overpowering front line. But Temple has a kid named Khalif Wyatt that is as clutch as anyone in the country.
No. 6 Butler vs. No. 11 Bucknell: This is going to be a great watch for x's-and-o's junkies. Both teams are exceedingly well-coached and execute their offense. but how does Butler deal with Mike Muscala, Bucknell's 6-foot-11, double-double machine?
Matchups to root for
No. 1 Indiana vs. No. 6 Butler: It might have been cooler if this were to take place in Indianapolis again. 'Big brother' gets a shot at revenge after a former walk-on for 'little brother' hit a game-winner in their first matchup.
The studs you know about
Victor Oladipo and Cody Zeller, Indiana: Oladipo was a Player of the Year candidate. Zeller was the Preseason Player of the Year. Both are all-americans.
Anthony Bennett, UNLV: The Rebel big man has deep range and dunks as ferociously as anyone in the country, but his dominance only comes in spurts.
Shane Larkin, Miami: He's the engine that makes Miami run, and may be the nation's best point guard this side of Trey Burke.
Allen Crabbe, Cal: It's a shame if you haven't seen this Rip Hamilton-clone play. He's liable to go for 30 on any given night.
The studs the nation will find out about
Mike Muscala, Bucknell: The Bison big man is a throwback, low-post scorer. He can go over either shoulder and score with either hand, he's got a soft touch on his jump shot, he blocks shots, be rebounds and he's tough. Throw in the fact that he's 6-foot-11 and a rapper, and we've got ourselves a tourney hero if Bucknell can get out of the first weekend.
Khalif Wyatt, Temple: It will take a Herculean effort from Wyatt to get out of the first weekend of the tournament, but he's up for the task. He's a slow-footed, big-bodied two-guard that lumbers his way around, using his strength and craftiness to make some ridiculous shots.
Will Cherry and Kareem Jamar, Montana: The Grizzlies have a very, very good back court.
Upsets that ARE happening
No. 14 Davidson over No. 3 Marquette: Davidson has size. They execute offensively. They can shoot the ball. They are a veteran group that went into Kansas City and beat Kansas last season. Believe it.
No. 11 Bucknell over No. 6 Butler: Heresy and sacrilege, I know, but Bucknell might be the nation's best mid-major program that no one pays attention to.
Upsets that AREN'T happening
No. 13 Montana over No. 4 Syracuse: I love Will Cherry and Kareem Jamar, but when people talk about the Grizzlies winning this game, ask them about Mathias Ward. They'll say, 'Who is that?', and then you can say, 'He's Montana's leading scorer who isn't playing because of a foot injury.'
CBT Predictions: I just don't see anyone in this region picking off Indiana.
You can find Rob on twitter @RobDauster.