Indiana gets the third No. 1 seed, heading to Dayton, OH, to take on the winner of LIU-Brooklyn and James Madison. The Hoosiers missed out on a chance to play in Indianapolis for the regional; they'll be headed to DC instead.
If Indiana doesn't become the first No. 1 seed to lose in the opening round, they will take on the winner of the uber-talented and ultra-enigmatic NC State Wolfpack and the Temple Fighting Khalif Wyatts.
Miami, the duel-ACC title winners, earned the No. 2 seed in the east, drawing Pacific in the opening round. Marquette was a No. 3 seed in the east, and they may have the toughest draw of all the top three seeds in the opening round: the Davidson Wildcats. If they win? They get to play either No. 6 seed Butler or No. 11 seed Bucknell. That's just a brutally tough pod. Which is great for us.
(CLICK HERE: To browse through the rest of our 2013 NCAA Tournament Previews)
Syracuse drew the No. 4 seed in the East, and they drew a tough Montana squad in the opening round. The Grizzlies have a really, really good back court, but if Mathias Ward — Montana's leading scorer — is still injured, they aren't the same team.
The most head-scratching decision in the East Region? No. 5 seed UNLV will be playing No. 12 Cal, who they already matched up with this season, in what ends up being essentially a home game for the Bears in San Jose.
As there is in every region, the coin-flip game will be No. 7 Illinois and No. 10 Colorado. Both the Illini and the Buffaloes are "Box o' Chocolate" teams: you never know what you're gonna get.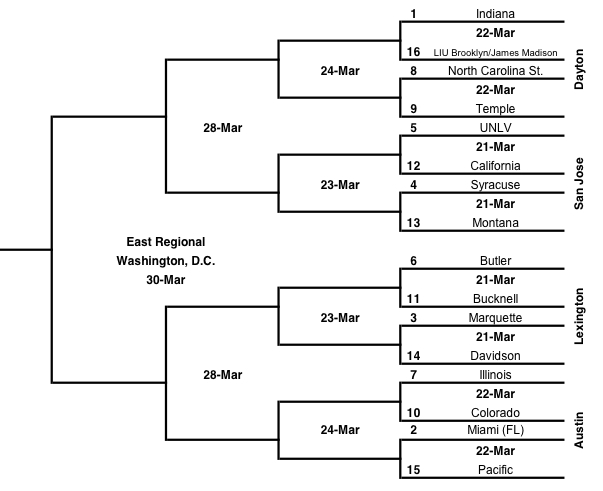 You can find Rob on twitter @RobDauster.